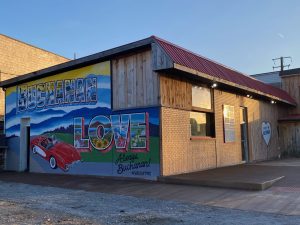 The Witt Stop has recently been sold to a local and active Buchanan business owner. Spring Witt had purchased the building in 2018 with the goal to revitalize this space to serve as a general/produce store. Over time, the market shifted this space into a well-known restaurant, The Witt Stop. Witt has sold the building with her focus shifting to The Anchorage House Bed & Breakfast, which is located right across the street.
"I am thrilled to have been able to sell The Witt Stop building to a respected business individual who is familiar with our community. In addition, shifting my focus into The Anchorage House Bed & Breakfast will allow for the time and energy needed to support the expansions currently taking place," Witt said.
With a name that nods to the naval service of its historical owner, Commodore William Conway Whittle, The Anchorage House was originally built in 1840. The house is listed on the National Register of Historic Places by the United States Department of the Interior.
Witt opened The Anchorage House as a bed and breakfast and event center at the end of 2019. The building boasts five rooms for overnight guests, as well as space downstairs for events. Wedding parties and other groups are welcome. After the pandemic, further renovations took place and the house now sleeps 14 with an added handicapped accessible bedroom and bathroom facility downstairs.
The Anchorage House is also designed to attract travelers. This includes hikers, bikers, boaters and those traveling along the Blue Ridge Parkway. Each of the rooms are undergoing an artistic renovation where each space will be independently branded. The house will have the Commodore Room, Norfolk Southern Room, Blue Ridge Room, James River Room and Cherry Blossom Room.
In September, a special event will be held at The Anchorage House for community leaders, business owners and stakeholders to celebrate the new expansion. For more information, contact Witt at 540-425-5239 or theanchoragehouse24066@gmail.com.
~ Fincastle Herald staff report