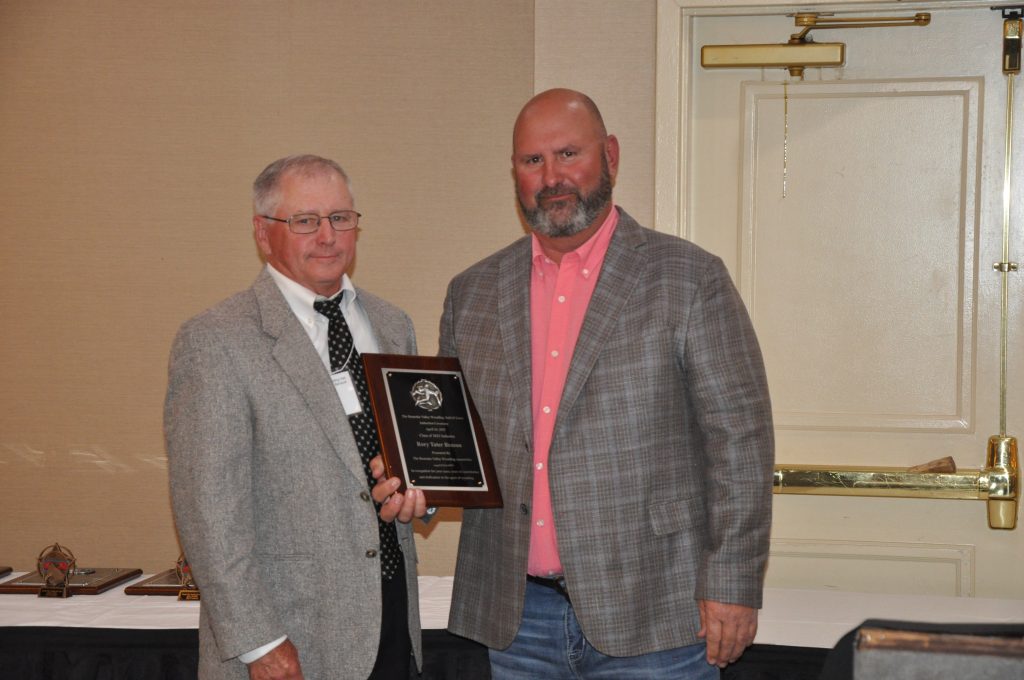 Former Lord Botetourt wrestler and coach Rory "Tater" Benson was one of four area greats inducted into the Roanoke Valley Wrestling Association Hall of Fame Monday. Benson was presented by former LB coach Mark Agner at a banquet at the Holiday Inn-Tanglewood.
Benson wrestled at Lord Botetourt under Agner from 1983-1986.  He was the 1985 Big Orange Champion, A two-time District Champion, and a two-time Regional Runner-Up.  As a senior, Tater compiled a 30-3 record.
After graduating, Tater went to Ferrum College and played football from 1986 to 1990.  He started in 41 consecutive football games and was named the Most Valuable Lineman on the 11-1 South Regional Championship team in 1988.
Following college, Tater served as the Patrick County assistant wrestling coach for 1991-1992.  He then headed back home to Botetourt and became the assistant wrestling coach.  From 1994 through 2006, Tater held the position of head wrestling coach at Lord Botetourt. His teams had a dual record of 196-44.  They placed 3rd in AA State in 2002 with 8 individual place winners.  The Cavaliers were three-time District Champions in 1998, 2004, and 2006 and Region Champions in 1998.  They were three-time Region runner-ups in 2001-2003. His teams had 3 top 5 finishes and 6 top 10 finishes in the AA State Tournament.
Tater coached state champions– Jonas Corl, who went on to wrestle at Harvard, Ryan Broughman, who wrestled at Va. Tech, and JJ Hickman.  He also had two wrestlers finish as state runner-ups, JJ Hickman and Dane Powers.
Tater was the Blue Ridge District Coach of the Year in 1998, 2004 and
2006. In 1998, he was the RVWA's Coach of the Year.  Tater is a strong
promoter of the sport of wrestling.
He has been a teacher at Lord Botetourt since 1991 and was the football coach from 2005-2011.  Tater was inducted into the Lord Botetourt High School Athletic Hall of Fame in 2002 and he was instrumental in developing scholarships in memory of two LB athletes.
Tater and his wife, Chrissy, have a son, Jacob, and a daughter, Audrey. Both children play sports at James River High.
Also inducted into the RVWA Hall of Fame Monday were Rob Hale, Alan Phlegar and Brandon Semones.