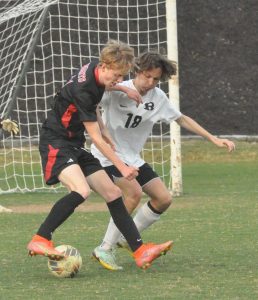 The James River boys battled a strong Radford soccer team to a 2-1 deficit in the first half, but the floodgates opened in the second half as the visiting Bobcats took a 7-1 win in Springwood Monday.
"We played a great first half and kept the game close," said River coach Jared Whiting. "Radford is tough this year and I feel we outplayed them the first 40 minutes but didn't outscore them. Things went downhill fast in the second half when fatigue hit us hard."
Cayden Hoyt had River's goal as the Knights fell to 10-4 overall and 4-4 in Three Rivers District play.
Last week the Knights had back-to-back games with Alleghany and Carroll. Playing at Alleghany Wednesday they took a 3-1 win as Josiah Clark scored all three goals on a cold and windy night.
"Other than the weather it was a good night for us," said Whiting. "We played solid control soccer and found our way into the box and finished the attack."
River had to turn around and play Carroll County in Springwood 24 hours later and this time the visiting Cavaliers took a 3-1 win. Hoyt scored for the Knights.
"Back to back games is a tough one for us," said Whiting.  "We are low on numbers so our legs were heavy and it showed."
The boys don't play again until May 17 at Rockbridge.