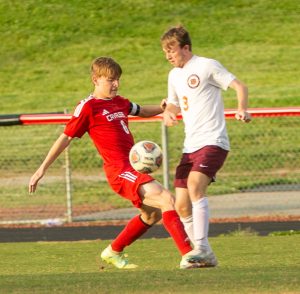 The Lord Botetourt soccer teams will play Blue Ridge District opponents this week with the regular season winding down. On Tuesday the boys were at Franklin County and Friday they go to Staunton River, and the girls play both of those opponents on the same days in Daleville.
The boys picked up a big win at home Monday as they edged William Byrd in a Blue Ridge District affair, 1-0. It was their final home game of the season as they had their second annual "Kevin Boeren Memorial" soccer game and first ever Read Mountain Soccer Night.
"We were able to celebrate the life of a former LB soccer player from the Class of 2016 who tragically lost his life back in early 2022," said LB coach Taylor Leonard. "During this time we recognized the boys and girls soccer teams from Read Mountain Middle School. It was a wonderful evening to bring together the soccer community."
The game that followed was scoreless through regulation. In overtime, Cadyn Bowles sealed it for the Cavaliers off a penalty kick for the only goal of the game in a contest that saw LB outshoot the Terriers by a wide margin. Byrd had fewer than 10 shot attempts while the Cavaliers had close to 30.
Last week at Northside the boys fell to the Vikings, 2-0, then on Friday they hosted BRD leader William Fleming for "Senior Night," celebrating seniors Ibraheem Altawel, Bowles, Tripp Cullop, and Jacob Simms.
Fleming struck first off a corner kick play in the first 10 minutes of the match. The Colonels got their second goal off a penalty kick but Bowles cut the lead in half with a goal with 20 minutes remaining. However, LB could not draw even and dropped the game, 2-1. Botetourt is now 4-4 in the district and 6-8 overall.
The LB girls are 9-2-3 overall and 5-1-2 in the district after two BRD wins last week. The Cavaliers beat Northside, 4-0, and Fleming, 10-2. No details were reported.