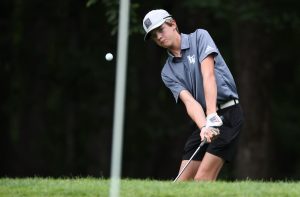 The Lord Botetourt golfers needed to make up 15 strokes in the last Blue Ridge District regular season "mini-match" of the season Tuesday. Northside had the lead going into the final round at the Blue Hills Golf Course in Roanoke County.
Staunton River hosted the fifth of six matches at Mariner's Landing last week and Botetourt held serve, but failed to pick up ground on the Vikings. Both teams shot 151 to give Northside a season total of 1,088 to 1,103 for the Cavaliers. Franklin County was third with 1,128, Byrd is next at 1,145 and Staunton River had 1,393.
"We played much better at Mariner's but, unfortunately, so did Northside," said LB coach Todd Smith.
Alicia Davidov led LB with a 35, just a stroke behind medalist Nick Crawford of Northside who shot a 34 to take over the season individual lead. Also scoring for the Cavaliers were Jeremy Simmons with a 37, Dylan Gonce at 38 and Aiden Mitchell with a 41.
Today the Cavaliers are scheduled to play a non-district match at the Lexington Country Club against Rockbridge County and Alleghany.