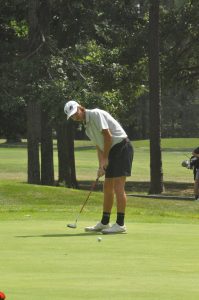 The James River golfers will have a busy week on the links as the varsity or jayvee golfers will have four matches in five days.
On Monday the jayvees were scheduled to play at Staunton for a nine-hole match. On Tuesday the Knights were scheduled to host Glenvar and Greenbrier East in a non-district match at the Botetourt Golf & Swim Club.
After a day off Wednesday, the Knights are back on the tee Thursday for a match at Great Oaks in Floyd County where they'll take on Blacksburg, Giles and host Floyd. Then, on Friday, River will travel to the Greenbrier to compete against Greenbrier East.
Last Thursday at Great Oaks the Knights beat host Floyd by two strokes to win a Three Rivers District match. River finished with 326 to 328 for Floyd and other scores were Radford at 343, Patrick County at 350, Glenvar at 351, Carroll County at 356 and Alleghany at 359.
Landon Bolling led River with a 74, one stroke behind medalist Peyton Mason of Floyd, while Dylan Hicks shot 79. Also scoring were Mason Gilliland with 86 and Haden Parker with an 87.
"The team is really coming together," said coach Donna Cox. "They are practicing hard and are really pushing themselves to achieve team goals.