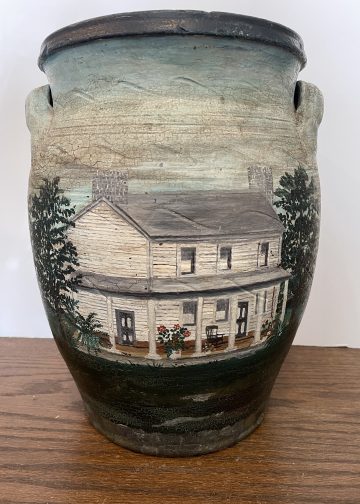 The long-forgotten Fluke's Tavern was painted on this crock by Effie Zimmerman. It is displayed upstairs in the Botetourt History Museum in Fincastle. It was donated by Margaret's Fluke's niece, Sarah Muth, in 2022 after Margaret's passing.
The history of Fluke's Tavern is important and is documented in "Botetourt County Virginia Heritage Book 1770-2000" which was written by the Botetourt Heritage book committee chaired by Rena Worthen. This book is a valuable resource and tells the story of the Fluke brothers who came to America from Germany in the mid-1700s.
One of the brothers was Jacob Fluke who had 10 children. His youngest, John Fluke, came to Botetourt County by 1800. He purchased 300 acres for $1,500 and later bought another 110 acres along a well-traveled route by Native Americans and early settlers. He built a tavern and stagecoach stop for the weary travelers and their horses. The dirt road became the Lynchburg-Salem Turnpike, which today is Route 460.
The area was named Fluke in honor of son Peter Fluke who ran the tavern and was also the first postmaster of the post office from 1823-1873 called Fluke's Station. When the Atlantic Mississippi & Ohio Railroad was built through the area, the depot was named Flukes.
In 1866 the first Blue Ridge Springs Hotel was built and the name Blue Ridge was adopted for the community. By telling a Botetourt story through the Museum's artifact collection history can come alive in our ever-changing and fast-paced society.
~ Botetourt County Museum of History & Culture