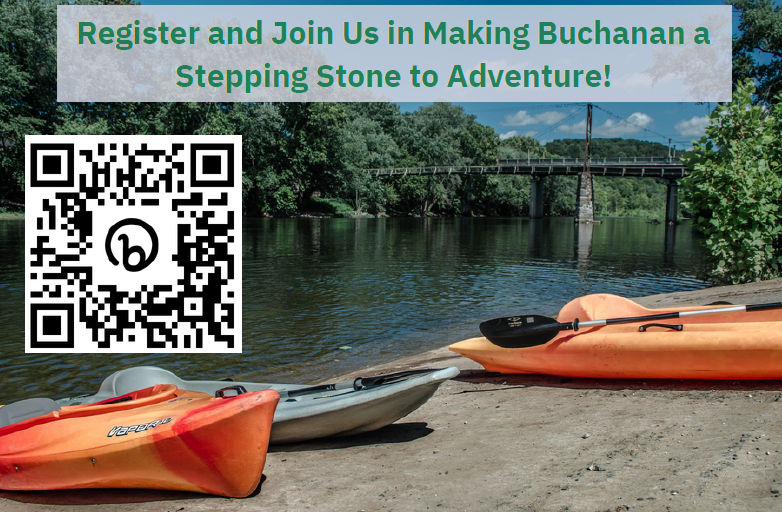 The U.S. Environmental Protection Agency, the U.S. Department of Agriculture Forest Service, the Northern Border Regional Commission, and the Appalachian Regional Commission have selected Buchanan as a community to receive planning assistance through the Recreation Economy for Rural Communities (RERC) program, which aims to help communities enhance outdoor recreation opportunities and strengthen downtowns. The Town of Buchanan was one of 22 other small communities in the U.S. to be awarded this planning grant.
Citizens are invited to a community workshop on July 13 and 14 to envision how the Town of Buchanan can enhance outdoor recreation to become more vibrant for its residents, business owners and visitors
To register, visit https://bit.ly/RERC-BuchananVA
July 13: Community Meeting – 5:30 p.m., refreshments, 6-8:30 p.m., meeting
July 14: Action Planning Sessions – 9 a.m.-5 p.m.
Location: Wilson Warehouse/Community House, 421 Lowe Street, Buchanan
Questions: Harry Gleason, Community Development Planner, hgleason@buchanan-va.gov
Workshop goals
Physical Outdoor Recreation and Other Critical Infrastructure
Invest in priority projects for new parks, trails, river access, campgrounds, wayfinding/signage, and other needed physical infrastructure, so that residents, visitors, and especially youth can enjoy all that Buchanan has to offer.
Business and Organizational Support and Connections:
Support existing and new businesses and organizations in the outdoor recreation realm, including hospitality, lodging, retail, and the arts and heritage sectors.
Authenticity and Downtown Revitalization:
Consider placemaking strategies to make Buchanan's downtown a pleasant and authentic place to live and visit, with an intent to retain and conserve the culture, character, and small-town charm of Buchanan for existing residents and visitors alike.
~ Fincastle Herald staff report