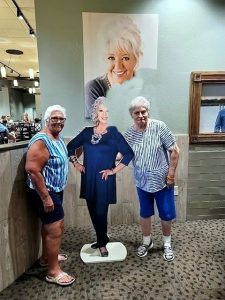 Myrtle Deane Cary, 78, of Botetourt County, passed away peacefully at her home Sunday, April 16, 2023.
Deane was born in Fincastle July 14, 1944 and lived in Botetourt County all of her life. She was the daughter of the late Jordan Lewis and Emily Virginia Slusser Cary. Deane was a hairdresser most of her life and was the owner of Deane's Beauty Shop for a period of time. She was a home health aide for various agencies and, most recently, was an ambassador/greeter for Rader Funeral Home in Daleville. Deane was a member of Mt. Pleasant United Methodist Church all of her life where she currently was serving as treasurer.
In addition to her parents, she was preceded in death by her brother, Jordan Paris Cary; sisters, Violet Jane Armstrong, Stella Virginia Kidd, Dorothy Louise Cary, and Gladys Marie Eubank; nephews, Lester Lee Eubank, Jr. and Earl Lewis Eubank. Deane is survived by her niece, Emily Gale Eubank, and "The Puppies."
Deane's family would like to thank Davita Kidney Care of Daleville for their care of Deane during her dialysis sessions.
A celebration of Deane's life was 2 p.m. Saturday, April 22 at Mt. Pleasant United Methodist Church (White Church), 2357 Mt. Pleasant Church Road, Fincastle with Pastor Rodney Longmire and the Rev. Terry Johnson officiating. Burial was in Mt. Pleasant United Methodist Church Cemetery. The family received friends at the church Saturday one hour prior to the service.
Online condolences may be made to Deane's family at www.rader-funeralhome.com/tributes/Myrtle-Cary.