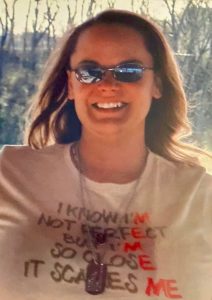 Cherie Leighann Mattox, of Botetourt, passed away unexpectedly on Sunday, April 16, 2023 at age 49. She was born on April 13, 1974, to her loving parents Carrie and Joel Mattox.
Cherie was a vibrant and adventurous woman who loved spending time outdoors. She had a passion for deer hunting, cooking, and kayaking on the river. Her wild and free spirit was contagious, and she always brought a smile to everyone's face with her sense of humor.
She was preceded in death by her parents; grandparents, Rose and Charlie Gibson; grandfather, the Rev. William "Bill" Mattox, and her nephew Hunter Mattox.
Cherie is survived by her significant other. Chris King; her sons, Hayden Catlett and Joel Hall and their wives, Sara and Jackie, respectively; and her grandchildren, Jaiden, Hunter, and Jason Catlett. She also leaves behind her grandmother, Ada Mattox; brother, Jay Mattox and his wife Cordelia, and nephews TJ and Leland Mattox. Cherie will be deeply missed by her aunt, Melissa Mattox, special cousins, Lauren Lindsay, Willow Lindsay, Marla Puckett, Frona Jean, and many others.
Cherie was a remarkable woman who will be remembered for her adventurous spirit and her ability to bring joy to those around her. She will be deeply missed by her family and friends. Services to celebrate her life will be announced at a later date.