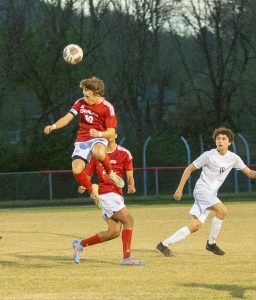 The Lord Botetourt soccer teams took on Salem last Thursday with mixed results. The girls took a 3-1 win over the Spartans in Salem while the boys dropped a heartbreaker, 1-0, in Daleville.
The girls were led by Emma Rice, who had two goals and assisted on Autumn Estrada's goal. Autumn assisted on one of Rice's goals as the Cavaliers bounced back from their first loss of the season to improve to 4-1.
The boys hosted the Spartans and dropped a tight 1-0 decision. Garrett Honts kept the Cavaliers in the game with some outstanding play in goal.
"Honts was pulled up to fill JB Cook's place and played an outstanding game for his first time at the varsity level," said LB coach Taylor Leonard. "He had a handful of saves, and had some great goal line stands that kept Salem off the board the majority of the match."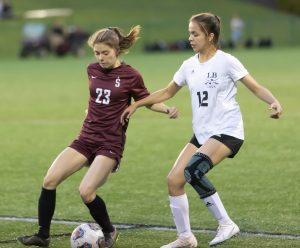 The loss followed a 4-1 LB win over Northside two days prior, also in Daleville. The Vikings were the team to strike first, but the Cavaliers found a groove and did not look back. LB went into the half with a 2-1 lead and put two more scores on the board after intermission to win going away. Cadyn Bowles had a three-goal hat trick to pace the Cavaliers and Will Hall had the other goal.
The boys come into the week at 2-3 and were scheduled to play William Byrd in Vinton on Tuesday. The girls were home to Byrd on Tuesday and will play at Northside Friday.