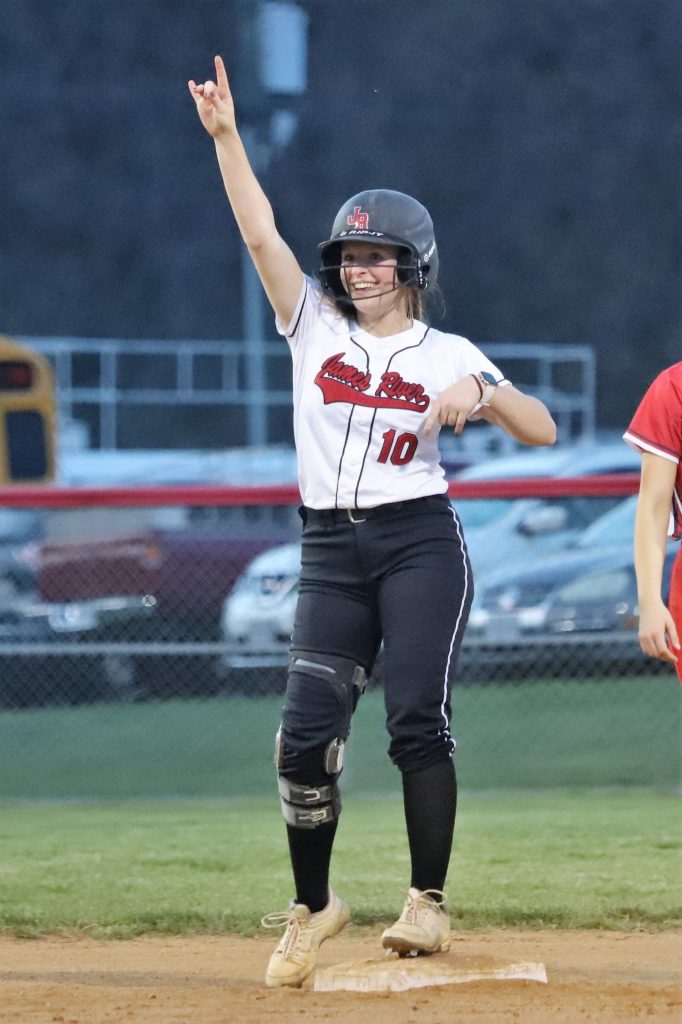 The Class 2 James River Knights swept two larger schools in softball on back-to-back days last week when the Knights downed Class 3 Lord Botetourt on Wednesday and Class 4 Salem on Thursday.
The Knights hosted LB and took a 3-1 lead into the seventh inning, but had to execute a 9-2-5 double play to end the game and escape with a 3-2 win. With one out and the bases loaded, Cavalier leadoff hitter Jackson Kemper hit a hard line drive to right field that was charged and caught by Knight right fielder Keira Crawford. Crawford then made a strong throw to the plate to turn around Kaden Johnson, who was attempting to score. Knights catcher Kaycee Kincaid relayed the throw to third baseman Cloey Joynes, who applied the tag to end the game.
Lord Botetourt, held to four hits prior to the seventh inning, had four hits in the last frame but only managed to score once.
"Our defense was the difference, as it turns out," said River coach Steve Austin. "The double play at the end of the game was huge, but after Kemper led off the game with a single, we turned a 1-6-3 double play. We cut down Johnson at second base in the third inning after a lead-off gap shot to right center, 8-6. All those plays count."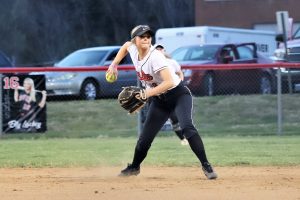 After four and half innings of scoreless play, Jenna Pugh of the Knights led off the home fifth with a double. With one out, Elly Lackey singled to center to score Pugh, who had moved up to third on a wild pitch. Lackey scored on a throwing error and then courtesy runner Caitlyn Downey scored on an RBI single by Kincaid.
Trailing 3-0 in the sixth, Kemper doubled to center with one out and eventually scored on a two-out throwing error, the lone James River error of the game.
Pugh led the Knights with three hits, including two doubles and a run scored. Kincaid had two hits and an RBI. Lackey had the RBI single, Ripley Barry had the only other Knights hit along with two walks. Kemper and Johnson led Lord Botetourt with two hits apiece.
Austyn Moran scattered eight Cavalier hits while striking out three and walking only one, allowing one earned run. The Knights remained unbeaten after four games with the hard-earned victory while LB fell to 1-4.
"It was a good win for us, but above all it was a really good high school softball game," said Austin. "Lots of good defense, big plays and some timely hits.
"You can never get comfortable playing Lord Botetourt. They always have lots of talent, they are well coached and they never quit. We were fortunate to win but our kids earned the win with their performance."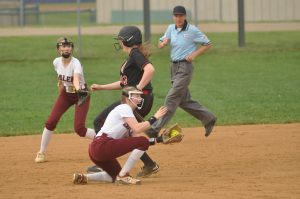 Less than 20 hours after escaping with a home win the Knights were back on the field at Salem on Thursday at the Salem Civic Center. The Knights were a bit flat early on, falling behind 3-1 after the first inning of play, but rallied to win 7-3.
The Knights had managed to scratch for one run in the top of the first inning when Kincaid's two-out bloop single plated Lackey. In the bottom of the first, Salem scored three runs on three hits and a walk and River faced its first deficit of the season. A two-out, two-run single by Taelyn Woodard was the big hit.
Knights pitcher Moran settled down the rest of the way, allowing only four hits in the final six innings. She ended up with 10 strikeouts and only two walks.
River picked up an unearned run in the third inning and took the lead, 4-3, in the fourth inning on two-out RBI singles by Jenna Pugh and Lexi McCullough. Freshman Sydney Breeding had a two-out RBI single in the fifth and then the visitors picked up two additional insurance runs in the seventh, highlighted by Moran's leadoff triple.
Pugh led the Knights with three hits for the second straight game, including a double. Moran had two hits and Ripley Barry, Abbie Wilson, Caitlyn Downey, McCullough, Kincaid, and Breeding had one hit each in the 11-hit attack.
James River improved to 5-0 on the season as the Knights prepare to enter Three Rivers District play. They were at Floyd County on Tuesday and will host Glenvar Thursday.
"It was good to face adversity on the road and methodically work through it," said Austin. "We had a lot of excuses we could have used but we chose to just buckle down and compete."
LB has a busy schedule this week. The Cavs were at William Byrd on Tuesday, they go to Blacksburg today and play at home against Northside on Friday.