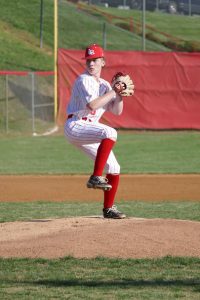 The Lord Botetourt baseball team will be at Hidden Valley today for a non-district game as the Cavaliers have another three-game week. LB was scheduled to host William Fleming on Tuesday and travel to Franklin County Friday for Blue Ridge District games.
The Cavaliers played three games last week and went 1-2, beginning with a 1-0 shutout of William Byrd. A Jackson Smith single in the first inning would plate the only run LB would need as Nolan Medley pitched a gem, fanning seven in a complete game four-hitter. Smith, JJ Tyree and Noah Donaho had two hits each.
A day later the Cavs hosted Blacksburg and lost a 9-1 non-district decision. LB was held to five hits, one each by Tyree, Smith, Donaho, Medley and Jesse Knights, who knocked in Botetourt's run. Cody McConnaughey pitched the first three innings and took the loss.
On Friday LB was back in the district and dropped an 11-6 decision at Northside. The Cavs had a great start, scoring six runs in the top of the first inning, but after that the bats went silent and the Vikings rallied for the win. Brayden Wells had two hits and two runs batted in and Tyree also had two hits. Jack Vargo took the loss, but of the 11 runs he allowed only three were earned.
The Cavs come into the week at 6-4 and 1-1 in BRD games. Northside and Franklin County lead the district in the early going at 2-0 each.