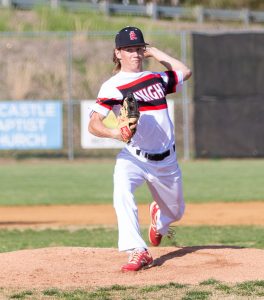 The James River baseball team opened Three Rivers District play last week with a split of their first two contests. The Knights beat Floyd, 1-0, but fell to Glenvar, 15-7, in two games that couldn't have been more different.
At Floyd, Heath Andrews threw a three-hit shutout to lead the Knights to the win. Andrews struck out 13 and walked just two, scattering three singles in a solid performance. He was backed by strong defense as the Knights played errorless ball. Andrews also had two hits and scored the only run of the game.
"Heath continues to do well when he takes the mound," said River coach Matt Gouker. "We played a talented Floyd team and showed we are able to play at that level."
On Thursday in Springwood the bats were alive for both teams in the loss to Glenvar. River fell behind early as Glenvar scored three runs in the first inning and two in the second against starter Zeal Hammons, who was relieved after two frames. Taylor Wilson, Kaleb Mays, Hunter Mays and Logan Joyce all saw time on the mound as Glenvar tacked on 10 more runs.
The uprising by the Highlanders spoiled a good day at the plate for River. Andrews and Colin Cook had two hits each for the Knights and both scored twice as well.
With the split the Knights come into the week at 3-4 on the season. They were scheduled to host Carroll County on Tuesday and Friday Radford comes here.