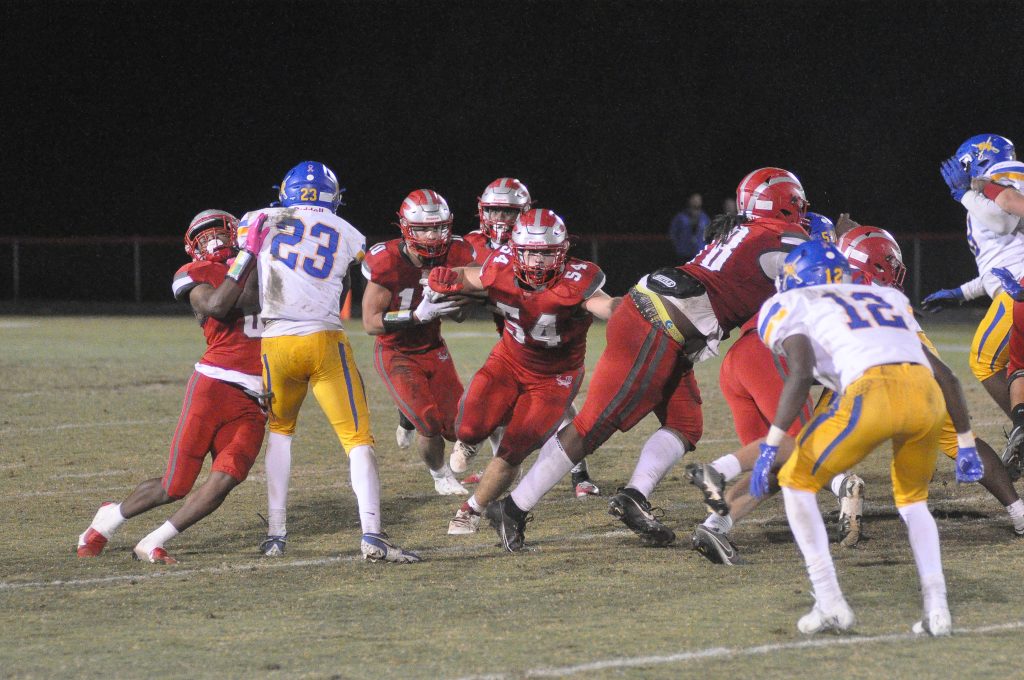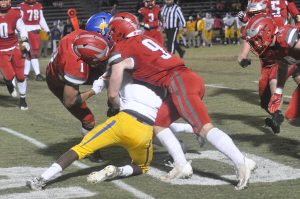 Sam Grooten intercepted a pass with 45 seconds on the clock to kill a late William Fleming threat as Lord Botetourt held on to beat the Colonels in football Friday. The Cavaliers took a 14-13 win in Daleville.
This was a tight game from start to finish, with neither team leading by more than a touchdown. The Colonels had the first scoring opportunity when they had a first-and-goal at the one, but two penalties pushed them back and the Cavaliers held. Fleming then drew first blood on an 11-yard scoring penalty and an LB field goal attempt from 33 yards away was wide with 40 seconds left in the half and Fleming led 7-0 at intermission.
Botetourt tied the score at 7-7 when Jakari Nicely ran one in on fourth-and-seven from the eight-yard line with 7:18 to go in the third quarter. Then, just 50 seconds later, Cody McConnaughey picked off a pass deep in Fleming territory. The Colonel defense stiffened and LB missed a 37-yard field goal that could have put the Cavs ahead.
Fleming had another drive going late in the third period but a fumble gave the ball back to LB with 1:49 remaining in the quarter. Then, with 9:42 to go in the game, Nicely found a wide-open TJ McGinnis for a 53-yard scoring play that gave the Cavaliers their first lead at 14-7.
"We drew that up in the huddle," said LB coach Jamie Harless. "We noticed their outside linebacker was playing in tight and figured we could get TJ out there all alone. We called time out and drew it up and it worked."
Fleming drove down the field and scored with 7:18 to go, but the extra point snap was fumbled. Fleming tried to pass the ball for two at that point and completed the pass, but Ben Gilbert was able to tackle the receiver just before the goal line to preserve LB's 14-13 lead, and that would prove to be big.
Botetourt took the ensuing kickoff and tried to run out the clock. However, that's when things started to get hairy.
The Cavaliers were faced with a fourth-and-three on their side of midfield and decided to go for it, and a first down would have likely ended any chance for Fleming. However, a procedure penalty on the Cavs prior to the snap changed Harless' mind and the Cavaliers punted with Fleming needing only a field goal to win the game.
The Colonels put on a late drive and had some chances. A fourth down play resulting in a pass interference kept Fleming's drive alive, only to have Grooten intercept a pass just above his shoe tops to kill the threat and give LB the win.
Nicely finished with 114 yards rushing on 22 attempts to lead the Cavs. Tristan Overbay had 25 yards on 14 carries and McGinnis and McCounnaghey had one reception each.
Harless credited McCounnaghey and Grooten for an outstanding job on defense.
"They both played extremely well," he said. "Sam played great and Cody did a tremendous job. He drove the punt protector into the punter for a big play for us and had a textbook interception, just how you draw it up. And he did a good job not letting that Coleman kid run his sweeps."
With the win, LB improved to 6-2 on the season and held their fourth spot in the Virginia High School League Region 3D rankings. This week the Cavaliers will host 2-6 Northside in their final home game of the regular season.