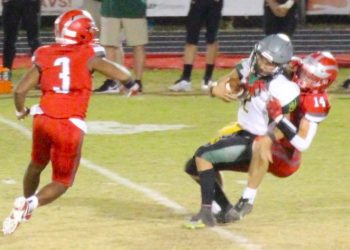 Last Friday's Lord Botetourt win over Northside, combined with Christiansburg's loss at Salem, moved the Cavaliers into third place in the Virginia High School League Region 3D standings with one week to go.
Botetourt is now behind only undefeated Magna Vista and 8-1 William Byrd in the standings. Magna Vista has a rating of 27.7 and plays 2-7 Mecklenburg County this week, so the Warriors are all but locked into the top spot. Byrd is at 26.5 and the Terriers finish up with a trip to Northside, the 11th ranked team out of 13 Region 3D teams. LB is now at 25.1, and a win over Class 5 Franklin County in Rocky Mount Friday would lock up the third seed and an opening round home game in the playoffs with a possible rematch with William Byrd in the region semifinals.
"Right now all I'm worried about is staying healthy," said LB coach Jamie Harless. "We've been battling some injuries and we need to be as healthy as possible for the playoffs. We had some kids out last week, but some others stepped up and did a good job for us."
Even with some backups in key spots the Cavaliers had little trouble with Northside, winning 47-21. The Cavs jumped to an early 14-0 lead when Jakari Nicely scored on a seven-yard run and Cody McConnaughey recovered a fumbled snap on a punt attempt in the Northside end zone.
The Vikings answered with a 15-yard TD pass but Nicely scored on a three-yard run, then passed to Tristan Overbay for a 15-yard score to give LB a 28-7 lead at the half.
Northside's Mykell Harvey cut the lead to 28-14 with a 72-yard TD run early in the third period, but again the Cavaliers answered. Nicely hit McConnaughey twice with touchdown passes, one for 19 yards and one for 64, and Sam Grooten ran one in from 12 yards out as Botetourt increased the lead to 47-14 after three quarters. Northside would tack on a 54-yard TD run by Harvey to account for the final score.
Nicely ran just five times in this game but threw 22 passes, completing 16 for 219 yards and three touchdowns. McConnaughey had seven receptions for 121 yards and two scores on a career night for him. Overbay had five catches for 69 yards and ran for another 87.
With the win the Cavaliers improved to 7-2 overall with one regular season game remaining as they play Franklin County in Rocky Mount. The Eagles are 4-5 and this is a big game for them, as they're in ninth place in the Region 5C standings with the top eight making the playoffs. A loss to LB all but knocks them out of any chance to make the post-season.
"They always have good players," said Harless, who was once an assistant coach at Franklin County. "We'll need to play well to beat them."