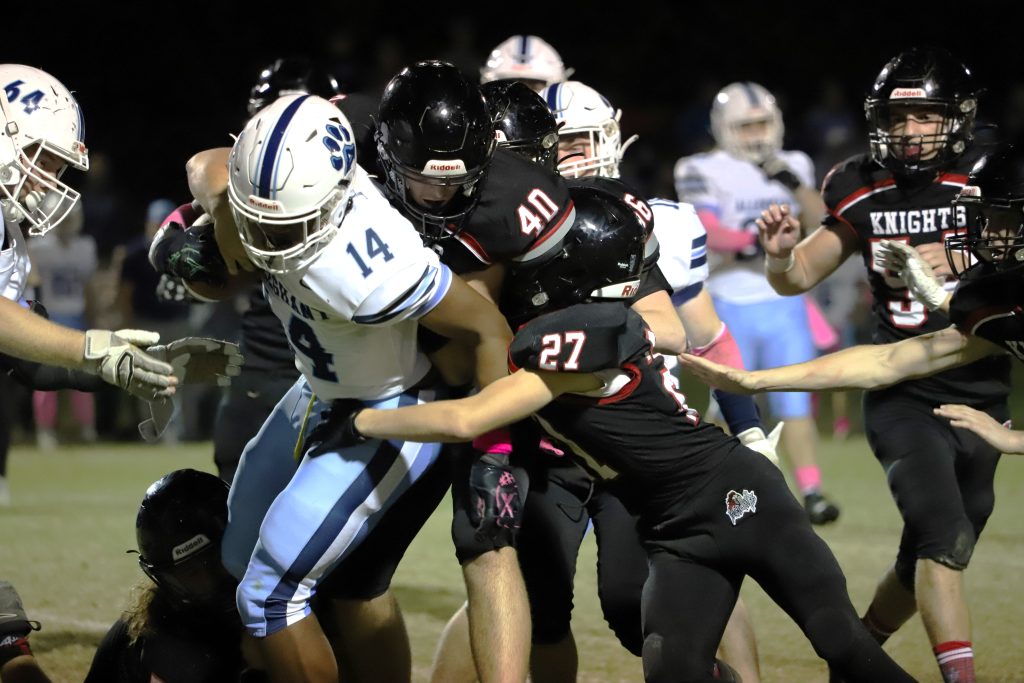 The James River football team is hoping to prolong the season with a win in what has been a difficult football season this fall. The Knights will play host to Patrick County in Springwood in the regular season finale Friday night, and a win will give them a shot at making the post-season playoffs.
The Knights will be looking to break a six-game losing streak Friday. The season started out with high hopes, and three wins, but in the fourth game of the season River suffered some key injuries and the Knights have only scored 20 points in the past six games. Last week they lost at home to 8-1 Alleghany, 57-0.
River's last three opponents, Alleghany, Glenvar and Radford, are a combined 24-3 and their only losses have been in games between them. This week the Knights will play a Patrick County team that has lost to all three and, after starting 4-1, has lost their last four games in a row.
"We can play with Patrick, it is a winnable game if we do our jobs and minimize the mistakes," said River coach Tim Jennings. "We cannot expect to have any success, let alone win a football game, if we can't do our jobs and play our best game.  Period.  We have to focus on us this week, not Patrick County."
Visiting Alleghany, a team that combined players from Alleghany and Covington High from a year ago, had too much firepower for the Knights in last week's blowout. The Cougars led 35-0 at the half and put another 22 on the board after intermission despite a running clock.
"Yes, they are good," said Jennings. "I told the team after the game that Alleghany has done a terrific job of coming together and prioritizing the weight room and off season, and their upperclassmen have stepped up and led, exactly what you want.
"We played better at times on offense than we had over the past few weeks, but not as consistently on defense or special teams. We had some guys step up at different times when we needed it, but just couldn't get over the hump."
River had some highlights. Jackson Taylor caught a 54-yard pass and another to Cam Saunders picked up 44 yards and put the Knights at first and goal on the one. However, the Knights shot themselves in the foot with a loss and a penalty and they weren't able to score.
The Knights struggled to run the ball, finishing with minus 47 yards on the ground. They had 97 yards passing, all from two big plays.
Defensively, Evan Byers had eight tackles to lead the team and Gabe Staton had seven. Ryder Ward blocked a kick and Taylor had an interception.
With the loss the Knights dropped to 3-6 and they're in ninth place in the Region 2C rankings with the top eight making the playoffs. They have a rating of 15.88 and Dan River, the eighth place team, is at 16.0. A James River win over Patrick County and a Dan River loss at Appomattox Friday would likely lift the Knights back into the top eight.