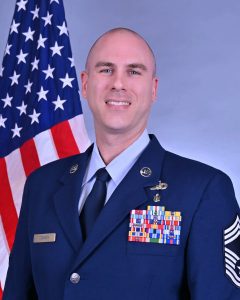 Allan B. Conner was promoted to Chief Master Sergeant (CMsgt) in the U.S. Air Force on July 1, 2023.
He has also been awarded the Defense Superior Service Medal (DSSM) for his services while stationed at Indo-Pacific Command in Hawaii.
Conner, who is in his 18th year, is a 2000 graduate of Lord Botetourt High School and was previously an employee of the Botetourt School Board. He earned his masters degree from Liberty University.
He is currently stationed at Barksdale AFB and lives there with his wife, Kimberly, and their daughter, Ashlynn.
He is the Son of Larry G. Conner and Florence B. Flowers and her husband, Vann Flowers.
~ Submitted by Larry G. Conner