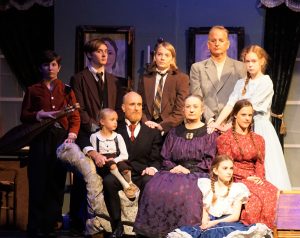 "Dear Nannie" is a historical drama inspired by the 2013 book "Dear Nannie… yours devotedly, Charlie" by Gail McMillan and Jean Robbins, and adapted for stage by Sally Miller of Attic Productions.
The story follows a young Fincastle couple throughout their lives until his death. They endure happiness and hardships; separation by work and war, the loss of a child, and ultimately, a scandal which separates them forever. Spanning the period directly before, during, and after the Civil War, this play is based on the real lives of Fincastle residents.
This show will be presented at Attic's D. Geraldine Lawson Performing Arts Center, 7490 Roanoke Road, Fincastle, on April 21-23. Show times are Friday at 7:30 p.m., Saturday at 2:30 and 7:30, and Sunday at 2:30.
This show is being produced in partnership with the Botetourt County Historical Society and Museum, and all tickets are $20 when paid in cash or by check at the box office. A $2 convenience fee per ticket will be added if paying with a card.
Tickets may be purchased on the Attic Productions website by visiting www.atticproductions.info. For questions or assistance with purchasing tickets, call the box office at 540-473-1001. Volunteers are staffing the box office on Mondays and Wednesdays from 3 to 7 p.m. and Saturdays from 10 a.m. until 2 p.m. Leave a message at other times and your call will be returned as soon as possible.
Partial funding support comes from the Virginia Commission for the Arts and the National Endowment for the Arts.