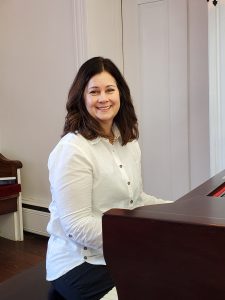 Lori Turner has taken on the role of Music Director for Fincastle Presbyterian Church. Turner, who is well known to many in Botetourt County, brings a multitude of musical skills which include a beautiful voice and amazing talent at the piano, while also excelling at the guitar, harmonica, concertina, and the organ.
Turner gained a foundation in music through childhood piano lessons with Deborah Wiley, Mary Lee Loope and the Hollins Academy of Music. During high school and college she attended summer music programs at Shenandoah University and Brevard Music Center, where she studied piano with Marilyn Neeley, former piano professor at Catholic University and winner of the Van Cliburn International piano competition.
While attending Emory & Henry College, Turner earned a BA in Middle Education, studied piano and performed with the E&H Concert Choir, under the direction of Dr. Charles R. "Doc" Davis founder and director for 36 years.
Turner said her favorite music quote is one that Dr. Davis recited before every college choir concert,  "For heights and depths no words can reach, God gave us music the soul's own speech."
All are invited to join in the worship service at Fincastle Presbyterian each Sunday at 10:30 a.m.
~ Fincastle Presbyterian Church