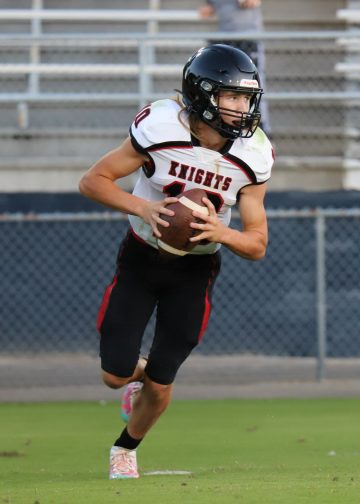 The James River football team saw their undefeated season come to an end and put the future in jeopardy as well during a tough night in Staunton last Friday. The Knights not only lost a 49-6 decision to the Storm but lost several of their best players to injury.
"They were easily the best team we played so far," said River coach Tim Jennings as the Knights dropped to 3-1 on the season. "They were very physical on the line of scrimmage. Our kids played hard but we were moving parts the whole time. We don't have a lot of depth and it really showed."
River senior quarterback Zeal Hammons went out with an injury in the first period and several other Knights were also injured during the game. The game started with standout running back Gavin Binns on the sidelines with an injury so the Knights were dealing from the bottom of the deck from the outset.
Staunton led 28-0 by halftime and upped the lead to 42-0 by the end of the fourth quarter with the clock running continuously. River finally got on the board in the fourth quarter on a 25-yard pass from Trey Taylor to Nathan Stewart to avoid the shutout.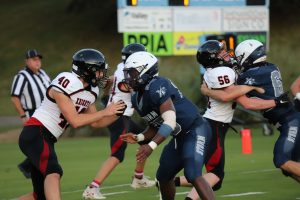 The status of several River starters is in question for this week's game, and the Knights will have one less day to prepare as they'll play at Floyd County for their Three Rivers District opener on Thursday. Game time is set for 6:30 p.m.
If River fans are looking for a bright spot they can see that Floyd might be a good team to play in this situation. The Buffaloes have started out 0-4 and they've struggled in losses to Christiansburg (42-0), Fort Chiswell(20-12), Blacksburg(40-14) and Grayson County last week (24-20). The 26 point loss to Blacksburg snapped a 28-game losing streak for the Bruins.
"They're struggling but we're going to have to play really well to beat them," said Jennings. "At this point I'm not sure who will be available. It's going to be 'next man up.'"