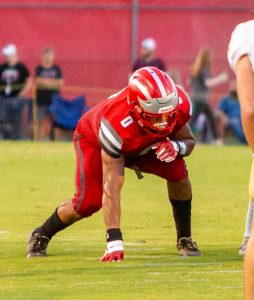 Lord Botetourt's football game at Appomattox was not played last Friday and LB coach Jamie Harless is determined to pick up a win if the Raiders "surrender."
Lord Botetourt was informed on Friday that all events at Appomattox High School during the weekend were cancelled due to a bomb threat at the school. Nothing materialized and the Raiders pushed back on a suggestion to play the game Saturday. Harless wants to play the game and is willing to work with the Raiders to find a time.
"We want to play, we just have to find a date," said Harless on Monday of this week. "As of now no decision has been made."
Social media sites cited Appomattox sources as saying the game would be cancelled and the Raiders would play just nine regular season games. However, that was not cleared with the Botetourt folks and they aren't going for that. They're determined to have the game played, and if not then the Cavaliers would insist on receiving a forfeit win. That would be a factor in the post-season rankings to determine home sites, and even Glenvar High football coach Kevin Clifford weighed in on the situation.
"They should have to forfeit if they don't play," said Clifford, who has lost playoff games to the Raiders in each of the past six seasons. An Appomattox forfeit to LB, or not, could determine home field advantage if Glenvar and Appomattox meet in the Region 2C playoffs again this season.
Harless would not elaborate on reasons for the Raiders possibly wanting to cancel the game, but he insists the Cavaliers want to play.
"The kids only get 10 games," he said. "We want to play every one."
This Friday the Cavaliers will be back home to play their first ever meeting with Olympic High School of Charlotte, NC. In the off-season the Cavaliers advertised they had an opening and Olympic High responded, and the dates matched up for what promises to be a good game in Daleville Friday night at 7 p.m.
The Trojans are 2-3 and, as you'd expect, have no common opponents with LB. They've beaten West Mecklenburg of Charlotte, 42-0, and West Cabarrus of Concord, 21-20. Their losses have been to North Mecklenburg, South Mecklenburg and Shelby.
"I know they're big, fast and athletic," said Harless. "They were undefeated in the regular season last year and they play a really strong schedule."