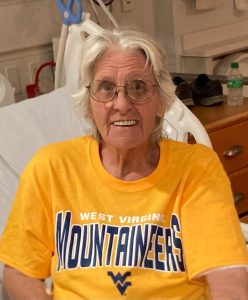 Elotia Marita Downey, 73, of 300 Revere Street, Clifton Forge, Va. died Sunday, October 1, 2023 at LewisGale Hospital – Alleghany, Low Moor.
Elothia was born April 15, 1950 in Covington to the late Freeman Armentrout and Garnett Ardelia Downey. She served in the United States Army and was a retired No. 2 paper machine operator for Westvaco. She was a member of the Church of God of Prophecy of Covington. She was a hard worker, enjoyed yard work and music, and loved her dogs.
In addition to her parents, she was preceded in death by a sister, Esolde McCulley.
She is survived by her brother, Ezekiel Dovenda Downey of Clifton Forge; a special cousin, Amy Tingler; a number of nieces and nephews; special friend, Robin Allen; and favorite neighbors, Susan and John Riley, and Leslie Hayslett.
A funeral service was conducted on Friday, October 6, 2023 at 2 p.m. in the chapel of Nicely Funeral Home, Clifton Forge with Pastor Teddy Bias officiating.  Interment was in Central Advent Christian Cemetery, Clifton Forge. The family received friends on Friday from 12:30 p.m. until the time of service. The family suggests memorial tributes take the form of contributions to The Alleghany Humane Society, 9313 Rich Patch Road, Covington, 24426. To send condolences to the family online, please visit www.nicelyfuneralhome.com.