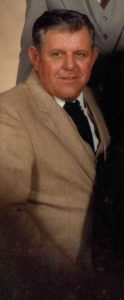 David G. "Big Dave" Hamm, Sr., 79, of Troutville, passed away Sunday, September 24, 2023 at Carilion Roanoke Memorial Hospital following a long illness.
Big Dave was born January 19, 1944 in Saltville, Va. and lived in Botetourt County most of his life.  He was the son of the late Vester T. and Mary E. Blevins Hamm.
Dave retired as machinist after 23 years of service from Norfolk Southern Railroad. He was a beef cattle farmer and enjoyed horseback riding, fishing, and bluegrass music. He served as president of the Craig County Horseman's Association for 10 years.
In addition to his parents, Dave was preceded in death by his sisters: Joyce Coffee and Carolyn Witt.  He is survived by his wife of 58 years, Mary Trent Hamm; sons: David Jr. (Genie) Hamm of Troutville and Matt (Aimee) Hamm of Bent Mountain; grandchildren: Tabitha (Jared) Varney, William (Rachel) Ball, Grace Ball, Chase (Kaila Blackstone) Hamm, Kendall Hamm, and Kellen Hamm; great-grandchildren: Mary Collins Varney, Hazel Varney, Isaac Ball, and Raleigh Grace Hamm; numerous nieces, nephews, and cousins.
A celebration of Big Dave's life was held at 2 p.m. Saturday, October 7 at Rader Funeral Home, Daleville with Pastor Chris Kingery officiating. The family received friends at the funeral home one hour prior to the service. Online condolences may be made to the family and service livestream may be found at www.rader-funeralhome.com/tributes/David-Hamm.