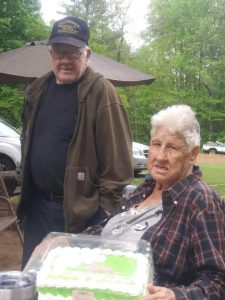 Earl Erskin "Nochie" Dudley, 82, of Botetourt County, passed away Wednesday, May 10, 2023.
He was preceded in death by his parents, Hiram and Josephine Dudley; son, Alvin Dudley; brothers, Norman, Leonard, Billy, Robert, Ruby, and Harry Dudley.
He is survived by his wife of 63 years, Vera Hickman Dudley; daughters and son-in-law, Brenda St. Clair, Gaynelle and John "Buck" Higgins; grandchildren, Gracie Higgins, Marlena McCullough, Angela Higgins, and Frankie "Bubba" Higgins; great-grandchildren, BJ and Norman Irvine, Joseph Heater, Lacey Lawhorne, Bethany Eastburn, Chevy Esquire, Matthew and Danielle Higgins, and Jerry Link; brothers, Bobby Dudley and wife, Joyce; Malcolm Dudley; sisters, Linda Dudley and Judy Sue Hickman; numerous nieces and nephews, including special nephew, Norman Lee Dudley; special friends, Scott and Becky Hannah and W.R. Deacon; many pet companions including special hound dog, Missy.
Visitation will be held from 6-8 p.m. Wednesday, May 17, 2023 in the Buchanan Chapel of Botetourt Funeral Home. Funeral services will be held 1 p.m. Thursday, May 18, at Botetourt Funeral Home, Buchanan officiated by the Rev. Michael Tabor. Interment will follow in Deacon Cemetery. Online condolences may be made at www.botetourtfuneralhome.com or 540-254-3000.