The Fincastle Fall Festival on September 23 will once again host a variety of music on the two stages in town, with local talent featured on both.
The Main Stage located in front of the Old Jail in the Courthouse Square will begin at 9 a.m. with "Wayfaring Whistle Pigs," an old-time string band which specializes in centuries-old fiddle tunes, ancient hymns and traditional ballads with prominent use of tight three- and occasional four-part harmony.  This local group has recently played and placed at the Galax 87th Old Time Fiddler's Convention and The Colonial-Style Barn Dance at Camp Bethel. Wayfaring Whistle Pigs members are Katherine Emerick, fiddle; Ted McAllister, guitar; Debbie McAllister, bass fiddle; Jacob Holdren, banjo; and Elizabeth Maness, mandolin.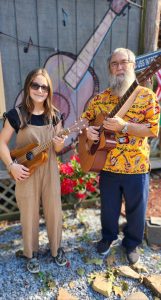 The afternoon will kick off at 12:30 p.m. with "Red Hands," a folk group from southwestern Virginia performing a review of hard driving old-time country and bluegrass tunes including several original songs. Red Hands members are Matt Dittler, Josh Gilliland, Daniel Kessler, fiddle, and Sean Poff with Chris Vogado on bass.
The Church Street stage will feature the students of Mike Lee, who has shared his talents with local students for 48 years.  His love of music has touched many young people in the county and beyond. The line-up for this stage is: 10:00 – Payton White; 10:30 – Elaine Bayse-Murphy; 11:00 – Avery Saunders; 11:30 – Austin Myers; 12:30 – Mike Hurd; 1:00 – Ruby Boblett; 1:30 – Justin Broughman; 2:00 – Kaeli Berry; and 2:30 – Kevin Austin.
~ Historic Fincastle Inc.