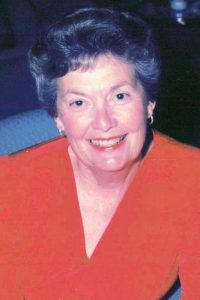 Edith Hart Fisher, 87 of North East, Md., passed away Thursday, October 12, 2023.
Born in Marion, Va., on August 25, 1936, she was the daughter of the late Marvin Ray and Jesse (Bridges) Hart. She graduated from William Byrd High School in Vinton. Edith worked in claims and as a receptionist for Blue Cross/Blue Shield. She was a wonderful homemaker and loved taking care of her family. A longtime member of North East Methodist Church, North East, Md., Edith also served as the head of the Christian Women's Club, and hosted weekly Bible studies. When her sons were young, she served as a Cub Scout den mother. She enjoyed knitting, painting, ceramics and crocheting afghans, especially for her grandchildren. She also enjoyed working Sudoku puzzles.
Edith is lovingly survived by her husband of 67 years, Richard Gordon Fisher; one son, David W. Fisher of Alexandria, Va.; brother: Tom Hart of Lexington, N.C.; sister: Margaret Robertson of Peachtree City, Ga.; daughters-in-law: Donna Fisher of Alexandria and Kim Fisher of Landenberg, Pa.; and six grandchildren: Kyle, Alexis, Dan, Mark, Joe and Luke Fisher. In addition to her parents, Edith was also preceded in death by a son, John M. Fisher.
The funeral service, conducted by Pastor Josh Mericle, was held Sunday, October 22, 2023 at 2 p.m. at North East United Methodist Church, with visitation at 1 p.m. Interment was at 10 a.m. on Monday, October 23, 2023 in North East Methodist Cemetery. Memorial  donations may be made to the North East Methodist Church, in care of Crouch Funeral Home, 127 S. Main Street, North East, Md. 21901. For condolences, please visit www.crouchfuneralhome.com.