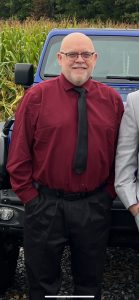 Hunter Lee Slusser, 55, of Fincastle, passed away Saturday, October 21, 2023.
Hunter had retired from Gala Industries with over 34 years of service. He was preceded in death by his father, Cecil Lee Slusser; special aunt, Linda "Sissie" Slusser, and his grandparents.
Survivors include his children, Jacob C. Slusser, Hannah B. Slusser, and Daniel E. F. Slusser; mother, Sally Zell Slusser; sister, Erin Slusser-Pease and husband, David, and nephew, Atticus; grandson, Landon James Slusser; and mother of his children, Terri Garrison Slusser.
Funeral services will be held at 11 a.m. Wednesday, October 25, 2023 in the Chapel of Botetourt Funeral Home, 14920 Lee Highway, Buchanan. Interment will follow in Mt. Pleasant United Methodist Church Cemetery.
The family received friends Tuesday, October 24, from 5 to 7 p.m. at the funeral home and will again at the Eagle Rock Community Center after the graveside service. Condolences may be made at www.botetourtfuneralhome.com or 540-254-3000.