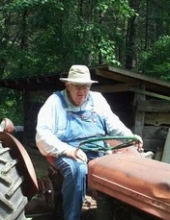 Burleigh Rolfe Gilliam, Sr., 89, of Arcadia, peacefully departed this life and crossed into eternity to be with the Lord on March 27, 2023, surrounded by his family, across the hill from his birthplace and in the home that he built with his own hands and took so much pride in.
He is survived by his loving wife, Phyllis, of Arcadia; his sons, Burleigh "Lee" (Jr.) of Colonial Heights; Thomas "Andrew" of Richmond; Daniel (and his wife, Amanda) of New Castle; and Benjamin (and his wife, Amber), of Troutville. In addition, he had seven grandchildren, and three great-grandchildren, as well as numerous nieces and nephews.
Born on July 25, 1933, he was the second youngest of five children born to Jess and Ida Gilliam of Arcadia. His experience growing up during the Great Depression gave him a strong work ethic, an unwavering moral compass, and a unique sense of pragmatism that he carried through his life. From his 30-year career with Woolworth's, his service in the U.S. Navy during the Korean War, to owning a Ben Franklin store, building his dream home back on the family land, running a sawmill and a small farm, and accomplishing another 15 -year career with the U.S. Postal Service, he was defined by hard work. Even after retiring for the second time, he turned his focus to gardening, woodworking, and improving the home right up until shortly before his passing.
One of his favorite activities, however, that he did for almost 60 years in various places, were fireworks shows. He was the most proud of the fireworks shows he did for the Buchanan Carnival for 42 years, and trained two generations of pyro technicians in safe performances and sharing in the love of the smoke and fire. The roar of the crowd was something he took great pride and satisfaction in.
He left a legacy that most can only aspire to. His moral compass, guided by his strong faith, was non-negotiable, and he took pride in his ability to stand firm in whatever he believed was right, earning the respect of even those who might not agree with him. His counsel was frequently sought after by civic leaders, businesses, politicians, and everyday people alike, and he was known for his ability to resolve conflicts and create solutions to civic problems. His passing has created a void in the world, and he will truly be missed.
In line with his wishes, the family held a private service. The family asks that in lieu of flowers, donations be made to the charity or church of your choice.