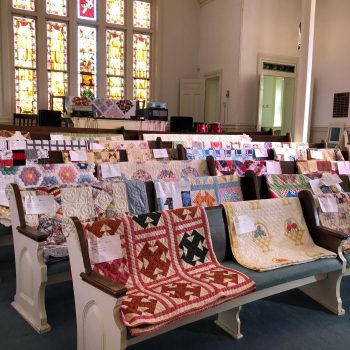 When visiting the 2023 Historic Fincastle Festival on September 23, be sure to make time to visit the HFI Quilt Show, located at the corner of Main and Church Streets in the former home of the Fincastle Baptist Church, now the private residence of the Saunders family.  An assortment of both new and old quilts from area quilters will be on display on the sanctuary's curved pews and quilt racks. Last year HFI had more than 50 entries and is hoping for even more this year.  Visitors will be invited to vote for their favorite quilt and ribbons will be awarded for first, second and third place People's Choice.
New this year, the area's Quilts Of Valor group, the Roanoke QOV Stitchers, will have a display at the show. Nomination forms will be available as well as information on when and where the group meets. Plans are in the works for a QOV presentation during the day of the festival for a local veteran.
An added bonus to seeing many beautiful quilts in one place is the beautiful setting the Saunders family has agreed to share.  The gorgeous stained glass windows of the former sanctuary can really only be appreciated from inside the building and provide a wonderful backdrop to the colorful assortment of quilts draped over the pews.
The quilt show will run from 9 a.m. until 4 p.m. on Saturday, September 23 and there is no admission charge. For those interested in participating in the show, entry forms can be found at Hisfin.org and scrolling down on the site links to Fall Festival. The entry deadline is September 13. To volunteer to help with the show, contact Cathy Henderson at 540-797-3914.
~ Historic Fincastle Inc.