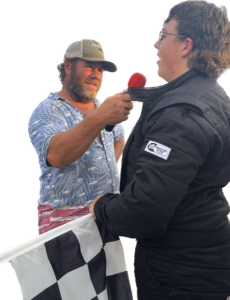 Gary Smith of Springwood won the first race he ever entered on Saturday night, August 12 at Franklin County Speedway.
Due to his inexperience, he had to take the green flag from last place. The Rookie Class races are shorter than most of the other classes, 15 laps.
With so little time and starting last, it seemed unlikely he would be able to get a good finish, as it was his first time in a competitive race. Also, the 15-year-old only recently got his learner's permit.
The experience Gary does have comes from the I racing simulator he bought two years ago (which he won the championship in his league as a Rookie last month) and being raised on a small farm, driving everything from tractors and trucks down to four-wheelers as soon as physically possible.
By lap 2 Saturday night, he had already raced his way to third. On lap 3, he dove to the inside in turn 4 to take second. Then a fierce (but clean) side-by-side battle ensued for three laps as Gary and the 21 car ran door to door. Finally Gary, in his black No. 97, pulled away stretching the lead every lap until he took the checkered flag.
Climbing out of his car, he took the microphone and thanked his grandfather and cousin for helping him buy his car, for which he had also earned money for a couple years. Then he remembered his sponsors –  Sink Septic, MECS Pawn and Gun, and Dr. Misty Lenk of Lenk Orthodontics.
Smith is a sophomore at Roanoke Valley Christian Schools.
Submitted by Will Smith