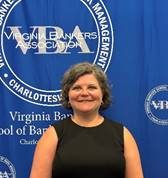 Ginny Hicks, Bank of Botetourt Deposits Operations Officer and Head of Retail Support, Care Center, was one of 60 graduates from The Virginia Bankers School of Bank Management on July 21. The Virginia Bankers Association sponsors the three-year school in cooperation with the Darden School of Business at the University of Virginia.
Hicks earned her bachelor's degree in business administration with a focus on leadership from Liberty University and has been with the bank for nearly 12 years. Prior to joining the bank, she was a pharmacy technician for 18 years. Committed to her community, Hicks is a proud member of the Botetourt Character Counts! Leadership Council and enjoys volunteering, reading, and spending time outside. Hicks currently resides in the Eagle Rock area with her husband, Jeff, and their son, Dylan.
The Virginia Bankers Association School of Management is the premier educational experience in banking that takes place at the University of Virginia's Darden School of Business in Charlottesville. Students who partake in the program complete three one-week summer sessions and eight home-study problems. Through lectures given by a variety of highly qualified instructors, case studies, and peer study groups, the School of Bank Management provides a comprehensive multidimensional learning experience for bankers looking to continue their education and thrive within their field.
Lyn Hayth III, CEO of Bank of Botetourt, expressed his congratulations to Ginny. "We are elated to see Ginny grow as a professional through continuing her education and successfully completing this program. Bank of Botetourt believes in investing in its employees and the importance of expanding and diversifying their knowledge base through networking and connecting with colleagues from throughout the Commonwealth. We are proud to have 23 Bank of Botetourt employees successfully complete the program and look forward to continuing our relationship with the VBA. The Virginia Bankers School of Bank Management at Darden is one of the most prestigious in the country and we are proud to have our President and COO Michelle Austin as one of the highly qualified instructors teaching accounting at the school for the past two years," Hayth said.
~ Bank of Botetourt