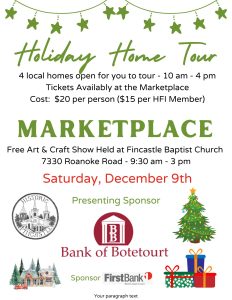 After a three-year hiatus thanks to Covid, Historic Fincastle Inc. has announced the return of the Holiday Home Tour & Marketplace on Saturday, December 9..
Fincastle Baptist Church on Roanoke Road is the start and finish location for buying tour tickets and for shopping at the HFI Marketplace. Since everything is indoors, the event is held rain or shine – only sleet/ice would cause the tour part of the day to be cancelled. The Marketplace will go on except under extreme conditions.
There will be four very different homes open this year, and only one of those has participated before – over 10 years ago and with new owners now residing there. There is a restored craftsman in Fincastle, and a stately mansion on Muse Road (once the residence of the Muses). Then there is a beautiful 20th century ranch style home on a knoll overlooking the countryside, and an amazing homestead dating back to the 1700s on Blacksburg Road.
The Arts & Crafts Marketplace will be open from 9:30 a.m.-3 p.m., and the Home Tour will run from 10 a.m.-4 p.m. Tickets are $20 for non-HFI members, and $15 for members (memberships can be purchased at the event, saving $5).
~ Historic Fincastle Inc.