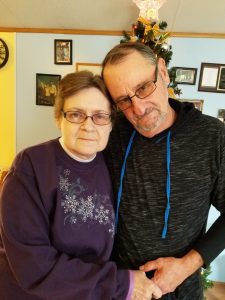 Eva Rhonalda "Ron" Moore Hostetter, 65, of Buchanan, passed away Saturday, August 13, 2023 surrounded by her loving family.
Eva "Ron"retired as a certified nursing assistant, she was a wonderful wife, mother, grandmother, and great-grandmother.
She was preceded in death by her parents, William R., Sr. and Edith Mae Vest Moore; and her brother, Steve Moore.
Survivors include her husband of 50 years, William Eugene "Billy" Hostetter; daughter and son-in-law, Starlene and Joseph Kelly; son and daughter-in-law, Gerald and Penny Hostetter; grandchildren, Shasta and Dustin Armentrout, Matthew Kelly, Clinton Hostetter and his girlfriend, Angela Young; great-grandchildren, Harley and Josee Armentrout, Nova, Wesson, and William Kelly; sister, Juanita M. Moore; brothers, Buddy and Barbara Patterson and W.R. "Bill" Moore, Jr.
The family will receive friends Saturday, August 19, 2023 from 12 to 2 p.m. at the Buchanan Chapel of Botetourt Funeral Home, 14920 Lee Highway, Buchanan. Her memorial service will begin at 2 p.m. with Pastor Randy Clarks officiating.
The family requests that you wear Eva's favorite color, purple, in some fashion. Also those wishing to make a contribution, please consider the American Cancer Society. Condolences may be made at www.botetourtfuneralhome@gmail.com or 540- 254-3000.