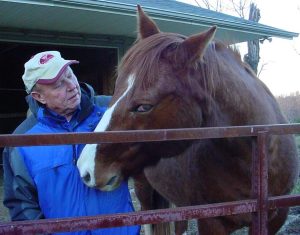 Larry Allan Richardson, affectionately known to his grandchildren as "Poppy," went to be with the Lord on Thursday, July 27, 2023 at age 78. He was born April 2, 1945 in Marion, Va., and resided for most of his life in Roanoke and Fincastle. Larry was a caring and giving husband, father, brother, grandfather, and uncle.
As an entrepreneur and small business owner in the Roanoke Valley, Larry ran a successful dental prosthetics laboratory, Custom Design, for more than 30 years and maintained professional certification as a dental technician throughout his career. Prior to coming to Roanoke, he worked at Burlington Industries in Marion. He thoroughly enjoyed recounting tales of misadventure during his youth and early adulthood in rural southwestern Virginia when the family got together.
Larry was an active member of his church, volunteered for the free health clinic at Fincastle Baptist Church, and donated generously to the Roanoke Rescue Mission. With his previous church family at First Baptist in Roanoke, he also volunteered with the children's AWANA program and managed their weekly store. His favorite places to vacation were Pigeon Forge, Tenn., and Myrtle Beach, S.C., where he took his family frequently. As an avid collector of folk art, Susan and he were also members of Moss in the Country in Daleville since 1998.
Larry loved animals and could be found every morning in the barn on his property feeding his horses, Crystal and Samson, and every evening, in his recliner in the den, with a cat or two on his lap and dogs by his feet. He was fond of being outdoors, whether it was trying to keep the deer away from his flower beds, planting vegetables, or restocking the many bird feeders he and Susan kept. He would have been gratified to know that, shortly before he passed, those tomatoes he planted and didn't think would survive bore a profusion of fruit.
Larry was preceded in death by his parents, Jesse James and Effie Lorraine (neé Hutton) Richardson; brothers and sisters-in-law, James and Ann, Robert and Barbara, and Allan Richardson; and brother-in-law, Lee Bearman.
He is survived by his loving wife of 38 years, Susan Kasey Richardson; sister, Patricia Bearman; sister-in-law, Lisa Richardson; son and son-in-law, Christopher Richardson and Keith Garrett; son, Kasey Richardson; stepdaughter and son-in-law, Whitney Pinion and Derek Briggs; stepdaughter and son-in-law, Deana and Chad McGhee; grandchildren, Madeline, Lucas, and Ava; and numerous cousins, nieces, and nephews.
A celebration of life will be held at 2 p.m. on Saturday, August 19, 2023, at Fincastle Baptist Church, 7330 Roanoke Road, Fincastle, with Pastor Joe Pantaleo officiating. The family will receive friends one hour prior to the service.
In lieu of flowers, donations may be made to the League for Animal Protection (603 Poor Farm Road, Fincastle, 24090), the Roanoke Rescue Mission (402 4th Street Southeast, Roanoke, 24013), or the charity of your choice.