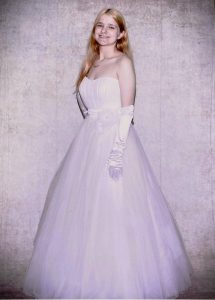 Isabella Claire Middleton of Troutville was one of seven Virginia Society, Children of the American Revolution debutantes presented at the 2023 Virginia Daughters of the American Revolution State Conference, at the Richmond Marriott on Friday, March 17, 2023.  The event was part of the conference's annual Opening Night Banquet, hosted by Virginia DAR State Regent Laurie Parker Nesbitt. Around 500 people from across the country were in attendance.
Middleton is the daughter of Matthew Douglas Middleton of Penicuik, Scotland and Elizabeth Bishop Middleton of Troutville.  She is the granddaughter of William Clarence Bishop, Jr. and Kathleen Oliva Proko Bishop of Blue Ridge, and of Peter Middleton (Ret., The Royal Scots) and Eileen Clayton Middleton of Dalkeith, Scotland.
She is a senior at Lord Botetourt High School.  She will be the third generation of her family to graduate from Lord Botetourt, and is the fifth generation of her family to live in Botetourt County. Her grandfather, William Clarence Bishop, Jr., graduated from Lord Botetourt in 1964, and her mother, Elizabeth Bishop, graduated in 1987.
Middleton has been a member the of the Peter Jefferson Society, Children of the American Revolution since birth, and has served in numerous roles including three years as the chapter's president.  She has also been active in CAR at both the state and national levels, having served as a page at the VSCAR State Conference for two years, held State Committee chairmanships for five years, and served as the National Society, Children of the American Revolution's Pilgrimage Committee Chairman at its 2018 National Conference.  She served as the CAR Flag Bearer at last year's debutante presentation at the Virginia DAR State Conference, and has attended the event each year that it has been held, since she was 6 years old.
She has 16 proven American Revolution Patriot ancestors. They are:  David Anderson (VA), Henry Bishop (VA), Peter Cashwell (VA), William Cashwell (VA), Matthew Cox (VA), Cornelius Dabney (VA), Andrew Douglas (PA), John Klinger (PA), William Little (NY), Henry Stewart (VA), John Stonebraker (PA), Phillip Thurmond (VA), William Thurmond (VA), Charles Tucker (VA), Benjamin Weddle (VA), and Elias Wills (VA).
In addition to her CAR activities, Middleton studies ballet and hip hop at Floyd Ward School of Dance, and has appeared as an extra in the Southwest Virginia Ballet's annual performance of "The Nutcracker" at the Roanoke Civic Center for five years.  She was "Miss Virginia Beach Princess" in 2016, and is a member of St. Thomas of Canterbury Anglican Catholic Church in Roanoke.  She has recently become a member of the Col. William Preston Chapter, Daughters of the American Revolution, of which her mother and her late great-grandmother, Irene Simmons Bishop Jones, have also been members. She is planning studies toward a career in Criminal Justice after her high school graduation.
~ Submitted by Elizabeth Middleton