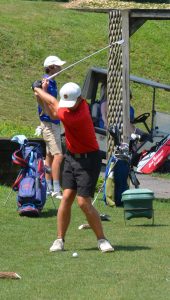 The Botetourt Golf & Swim Club was the host course for the third annual Botetourt Metro Golf Tournament last week, and for the second year in a row Jefferson Forest came out on top. The Cavaliers shot a four-player total of 313 to win by five strokes over second place Northside, who shot 318.
Salem was third among the 18 teams at 320, and the two Botetourt schools were next. Lord Botetourt was fourth with 328 and James River was fifth with 333.
Salem's Kathryn Ha was the individual champion with an 18-hole score of 70, one under par on the par 71 Botetourt course. Cody Cox of Jefferson Forest was second, two strokes back, and third place was a tie between Angelina Booan of Hidden Valley and Aidan Andrews of Salem at 75. There were 90 total golfers in the field.
Lord Botetourt's best score was a 79 by junior Hayden Firestone. Also scoring for LB were Jeremy Simmons at 81, Aiden Mitchell at 82 and Dylan Gonce at 86. Garrett Honts also played and shot 88.
James River was led by freshman Landon Bolling, who shot 80, followed by Dylan Hicks at 81. Also scoring were Mason Gilliland at 83 and Haden Parker at 89.
A special award was the Kip Nininger Scholarship. That went to Evan Britton of Lord Botetourt.
Both LB and James River were rained out of matches last Thursday, LB at Hunting Hills and River at the Botetourt Golf & Swim Club. River was also weathered out of a Monday Three Rivers District match at Cliff View Golf Club, hosted by Alleghany.
Both teams are scheduled to return to the links on Thursday of this week. James River has a match at the Old Mill course, hosted by Carroll County, and LB will have a home match with Blacksburg at the BG&SC.
Next Monday the Knights are at the River Course for a district match hosted by Radford. Next Tuesday LB is at Franklin County for a Blue Ridge District match.