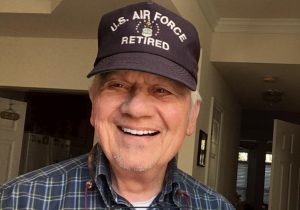 Michael A. Jones, 78, of Fincastle, passed away Friday, April 7, 2023 following a long illness.
Michael was born July 16, 1944 in St. Louis, Mo. and lived in Texas and Glenn Allen, Va. before recently moving to Fincastle. He was the son of the late Ralph C. and Catherine M. Kolb Jones.
Michael served for 24 years in The United States Air Force achieving the rank of Captain and retired as a Signals Intel Officer. He retired from the DEA Texas Division and worked for the Texas Employment Commission as a Veterans Representative helping veterans find jobs.
Michael earned his master's degree from East Texas State College, was a member of the Knights of Columbus, enjoyed baseball, collecting baseball cards and coins, and was an avid fan of the St. Louis Cardinals. His greatest love was his great-grandson, Emmett.
Michael is survived by his wife, Agapita Kolb Jones, whom he married in St. Peter's Catholic Church, San Antonio, Texas. Additionally, he is survived by his son, Michael A. Jones II (Patty) of Borne, Texas; daughters: Cathy (Gilberto) Rios of Smith Station, Ala., and Christine (Jay) Wright of Fincastle; great-grandson, Emmett; brothers, Bill (Linda) Jones of Sevierville, Tenn., and Tim (Alice) Jones of Rolla, Mo; and sister, Patty (Don) Camp of Costa Rica.
Services with recitation of the Rosary were 5 p.m. Sunday, April 16 at Sunset Memorial Park and Funeral Home, 1701 Austin Highway, San Antonio, Texas. Burial with full military honors was 9 a.m. Monday at Fort Sam Houston National Cemetery. Memorial contributions may be made to Michael J. Fox Foundation for Parkinson's Research, Grand Central Station, P.O. Box 4777, New York, NY 10163-4777.
Online condolences may be made to the family at www.rader-funeralhome.com/tributes/Michael-Jones.