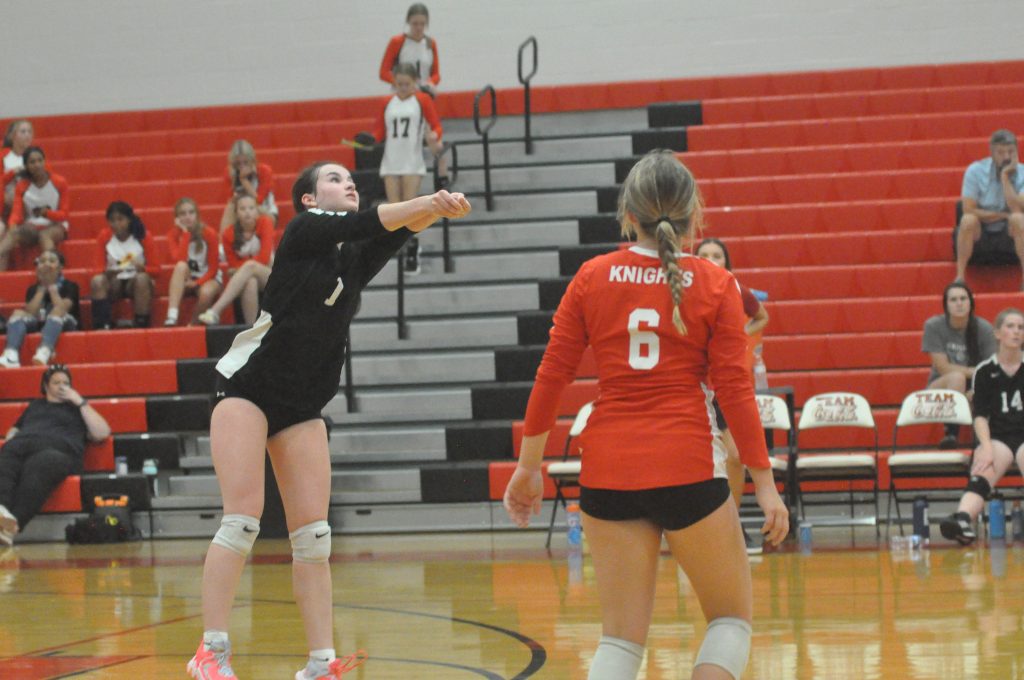 The James River volleyball girls have a busy week and it got off to a good start with a three-set win over Riverheads on Monday. The Knights won 25-15, 25-19 and 25-18 in a non-district match in Staunton.
"We were successful offensively," said coach Linsey Firebaugh. "Even when we were out of system we were able to find a way to terminate. From the service line we were able to keep them out of system so they could not run their offense well."
Jadyn Miller and Ava Thacker both had a dozen kills and Konner Myers had 35 assists and 18 digs.
The win improved James River to 7-5 overall and the girls were scheduled to host two-time defending Class 2 state champion Glenvar on Tuesday of this week but results were too late for publication. On Thursday the girls are at Floyd.
Last week River split two Three Rivers District matches. They opened with a three-set loss to Radford, 25-21, 25-20 and 25-21.
"It was a rough night for us defensively and offensively," said Firebaugh. "We could not get anything working together collectively as a team. However, we learned a lot from this match. Matches like this are always important lessons for the girls and coaches."
On Thursday the girls bounced back with a three-set win over Patrick County in Springwood. The Knights beat the newest Three Rivers District team 25-16, 25-17 and 25-11.
"We bounced back very well following our loss to Radford," said Firebaugh. "We were very successful in all aspects of the game. Our ball control and ability to run our offense put us ahead. Also, our serving was able to keep them off balance and give us a lot of free ball chances."
Chloe Helmandollar had 16 digs against Patrick, Myers had 29 assists and Miller had 10 kills.
Next Tuesday, October 3, the girls will host Alleghany.