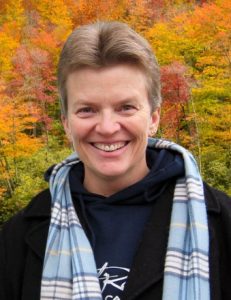 Janis Ann Keim, 67, of Penrose, N.C., passed away on Monday, September 25, 2023.
Surviving are her beloved wife, Cindy Ann Thomas, Penrose, N.C.; brother, Will Keim, Santa Rosa, Calif.; brother and sister-in law, Wally & Lori Keim, The Woodlands, Texas; nieces, Kaley McMillan, Tori Ward, Nikki Keim, Jenny Richards and their families, all of Texas; brother-in-law, Willis G. "Ranse" Ransone, Jr., Asheville, N.C.; their two much loved Samoyeds, Luna and Daisy; and many cherished friends, neighbors and chosen family.
Janis was preceded in death by her parents, John H. and Mamie Smith Keim of North Manchester, Ind.
Janis was born in Plymouth, Ind., in 1955 and grew up in North Manchester. She graduated from Indiana University and completed graduate school at Indiana State University, where she and Cindy met in 1980. Janis and Cindy moved to Boone, N.C., in 1984, where Janis earned her EDS at Appalachian State University, taught high school math abd managed the computer labs at ASU. The couple moved to the Kansas City, Mo., metro area in 1995. Janis worked in technology support at the Kansas University Medical Center and State Street Bank & Trust Co. before she and Cindy moved back to the North Carolina mountains in 2006. Janis then started her own computer consulting firm while pursuing her interests in photography and gardening, which she continued to enjoy upon retirement.
Janis and Cindy officially tied the knot on Janis' birthday in 2015, celebrating with family and friends the following summer. Hosting get-togethers, spoiling their dogs, exploring the mountains, hiking waterfalls and traveling together were among Janis and Cindy's favorite shared activities. They recently celebrated their 42nd anniversary with a two-week trip to Alaska. Many of Janis' passions are chronicled in her photographs on her three websites:
LifesCanvasPhotography.com, WesternNCWaterfalls.com and DiscoverOurNationalParks.com.
A celebration of Janis' life will be held at a later date.
The family would like to thank Janis' teams at Hope Women's Cancer Center, Mission Hospital and The Elizabeth House at Four Seasons for the care and compassion extended to Janis and her family during her illness.
Remembrances may be made to The Four Seasons Foundation (www.fourseasonsfdn.org/ways-to-give/), Blue Ridge Parkway Foundation (www.brpfoundation.org/donate) or Hope Chest for Women (www.hopechestforwomen.org/donate).
To leave a memory or condolence for the family of Janis Ann Keim, go to "Obituaries" at www.mooreblanchard.com. Moore-Blanchard Funerals & Cremations served the family.