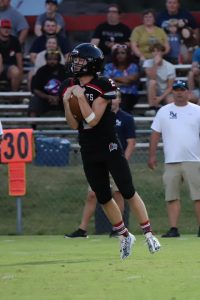 The James River Knights are still unbeaten in football after laying a hurt on Parry McCluer last Friday. The Knights used a big first half to fuel a 41-15 win over the Blues in Springwood.
In their first two wins, against Buffalo Gap and Randolph-Henry, the Knights dominated the fourth quarter to pull out victories. This time, however, they led 27-8 at the half and were up 41-8 early in the fourth quarter before the Blues scored a late TD.
Speedy sophomore Gavin Binns got the Knights on the board early with a 67-yard touchdown run on River's first offensive snap just two minutes and 10 seconds into the game. The visitors would take a brief 8-7 lead on a safety and a 20-yard pass play, but on the kickoff after the Parry McCluer TD, Maddox Woodyard returned the kick 74 yards for a score. It was his second TD on a kickoff return in the first three games.
"He's not even one of our deep men, he's a second row guy," said River coach Tim Jennings. "People are going to see that on film and stop kicking to him."
The Knights scored two more times in the second quarter, first on a 52-yard pass from Zeal Hammons to Trey Taylor and then on a 13-yard run by Binns.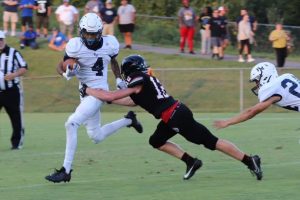 River made it 34-8 with 3:39 left in the third quarter on a seven-yard TD pass from Hammons to Nathan Stewart. River's final score came when Mitchell Snare recovered a muffed punt in the end zone and Evan Byers drilled his fifth extra point kick of the night.
Binns finished with 122 yards rushing on 12 attempts before he had to leave the game with an injury. He's expected to miss at least one week of action with Woodyard taking over as the lead ball carrier.
"He'll move into that spot," said Jennings of Woodyard. "He's not very big but he's a tough kid."
Hammons rushed for 25 yards and was four for eight passing for 103 yards. Taylor had two catches while Byers and Stewart had one each as River kept the ball on the ground to milk the clock once the Knights opened a big lead.
On defense Hammons led with 15 tackles, including six solos. Gabe Staton had 11 tackles and Keegan Mundy and Ryder Ward had nine each. Binns had an interception, Mundy and Carter Mullins had sacks and Snare had the fumble recovery for a touchdown.
This week the Knights will play their first game against Staunton High, a new team on the 2023 schedule. The only previous meeting was in 1959 when Staunton was known as Robert E. Lee High School.
Staunton is off to a 1-2 start under second year coach Michael Bell. They opened with a 15-14 loss to Madison County, followed by a 42-0 shutout of Rockbridge. Last week Staunton lost to Central of Woodstock, 14-6.
"Their team speed is better than anyone we'll see all year," said Jennings. "They have burners all over the place."
Staunton likes to control the game with their ground attack. River hasn't allowed a rushing touchdown since the first half of week one, and that will be a key this week.
"They're a run-first team," said Jennings of Staunton. "They're heavy on the run with a young quarterback and some good backs. We're going to have to continue to play physical football against them."