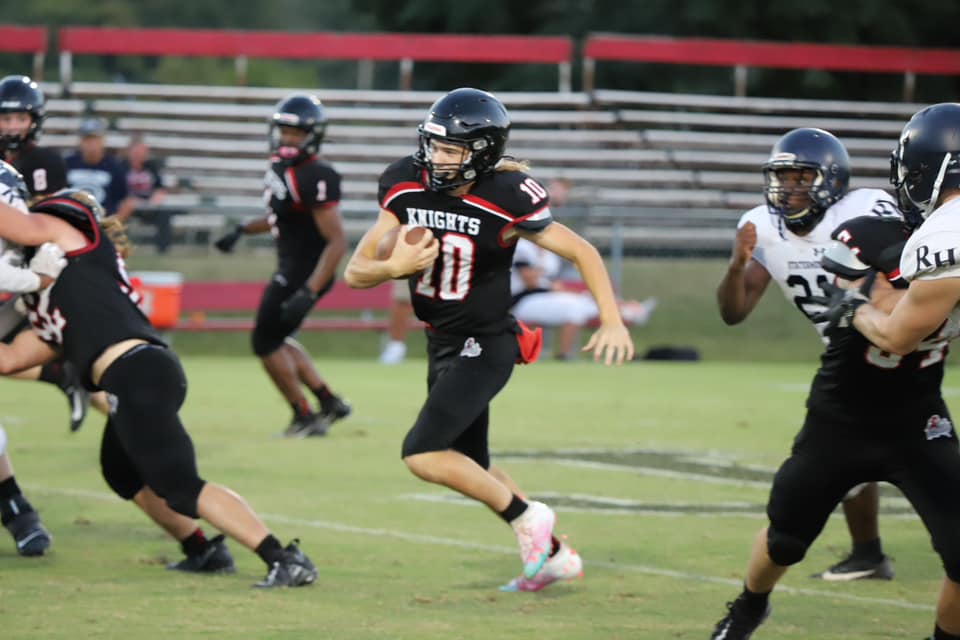 The James River football team has started off 2-0 for the first time since 2018, and you can chalk that up to their work in the fourth quarter. River finished strong for the second time in as many weeks to take a 34-16 win over Randolph-Henry in Springwood last Friday.
"We've become a second-half team, and that's not something we're used to," said River coach Tim Jennings. "Last year the fourth quarter was our nemesis."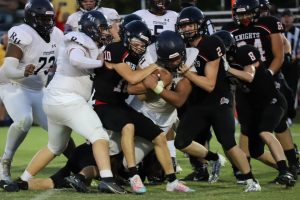 In River's opening game the Knights were scoreless through three quarters before rallying for a 13-12 win over Buffalo Gap. Last Friday the Knights led 7-0 at the half but the visiting Statesmen scored with 28 seconds remaining in the third quarter, then hit on a two-point conversion to take an 8-7 lead.
But the Knights were only getting started. Maddox Woodyard ran the ensuing kickoff back 85 yards to regain the lead after just 16 seconds, and a Zeal Hammons to Trey Taylor two-point conversion put River back on top, 15-7.
Taylor then recovered an onside kick and the Knights drove to paydirt again with Gavin Binns scoring on a 28-yard run. Evan Byers' extra point kick made it 22-8.
On Randolph-Henry's next possession, Binns intercepted a pass and took it 48 yards to the house for another score. The kick failed, but River now led 28-8 after three touchdowns within a span of five minutes and 14 seconds.
The stunned Statesmen were able to regroup and answer on a 34-yard scoring pass, and the two-point conversion made it 28-16 with four and a half minutes to go. However, River put it away by killing the clock and putting some icing on the cake with Byers running for a nine-yard score with 1:08 on the clock.
"Our kids are getting some confidence," said Jennings. "We're 2-0 and they're very coachable."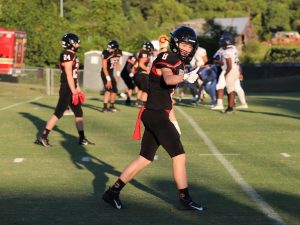 Binns, a sophomore, has been a big weapon for the Knights. The speedy back scored three touchdowns while rushing for 157 yards on 20 carries. He also caught a pass and had the big "pick six" in the fourth quarter.
"He's been something else," said Jennings. "He's fast, he sees the field well and he's tough to tackle. He's not big but he's strong."
Taylor rushed twice for 31 yards and Woodyard had 11 yards rushing as the Knights outgained Randolph-Henry on the ground, 173-55. Hammons was six for 13 passing for 76 yards with four to Taylor for 72 of those yards.
The Knights came up big again on defense, holding the Statesmen scoreless through the half and giving up a total of seven first downs and an average of 3.9 yards per play. Gabe Staton led the team with 15 tackles, including seven solos, two sacks and three for losses. Keegan Mundy had 11 tackles and Woodyard had nine.
This Friday the Knights will be home for the third straight week as they host Parry McCluer at 7 p.m. This is always a special game for Jennings, who played his high school football for the Blues.
"This year is special because one of my best friends is the coach there," said Jennings. "We were in each other's weddings and he has a couple guys on the staff who played with us."
Jeremiah Brockenbrough is off to a good start as the first year coach at the Buena Vista school. He took over a team that went 4-7 last year and has won his first two games by decisive margins, 55-14 over Rockbridge County and 44-8 over Cumberland. Both teams come in at 2-0 and you can leave the tuxedos at the gate this Friday.
"This is a little more special than usual," said Jennings. "And besides, this is the only game my mom comes to."