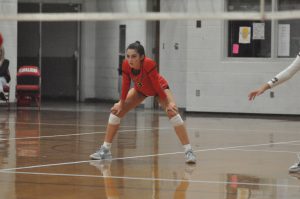 The Lord Botetourt volleyball team will be home tonight, Wednesday, to play host to William Byrd in a Blue Ridge District volleyball match, completing a busy stretch of action for the Cavaliers.
Tonight's match will be the sixth in nine days for the Cavaliers, who are now 11-4 after defeating Liberty Christian Academy in a non-district match in Daleville Monday. Botetourt also competed in an invitational in Christiansburg on Saturday.
The busy stretch started with a three-set win over William Fleming in Roanoke last Tuesday, September 26. LB allowed the Colonels just 19 points total in winning 25-4, 25-5 and 25-10. Gracelynn Clark had six kills while Amy Sprouse and Madilyn Winterton had four aces each.
Last Thursday at home it was a battle between the only two Blue Ridge District teams without a district loss, as the Cavs hosted Franklin County. Botetourt was hitting on all cylinders in this one as they swept the Eagles in three, 25-13, 25-13 and 25-16.
"We had a great match against Franklin County," said LB coach Julie Conner. "We were able to control the entire match by passing and hitting the ball very well."
Emma Rice had seven kills to lead LB while Becca Huddleston and Erica Gergely had six each. Skylar Morris dished out 26 assists, Maddie Caron had 14 digs and three aces and Bria Harvey had a dozen digs and a pair of aces.
The Cavs were back on the floor for a rare Saturday event at they participated in an invitational in Christiansburg. The matches were best-of-three and LB won one and lost two against some stiff competition. They lost in three sets to Christiansburg and Abingdon but beat Tunstall in two. In both losses LB dropped the third and deciding set by a 15-13 score.
"We did some things very well," said Conner. "We struggled finishing a close match against Christiansburg and Abington."
On Monday of this week the Cavs were right back on the floor to host Liberty Christian Academy and LB came from behind to win a marathon match. The Bulldogs won the first two sets, 25-21 and 25-17, but the Cavaliers evened the score in the next two, winning 25-22 and 25-20. LB then won the deciding set, 15-12.
"We started out flat against LCA but turned things around in the third set and were able to get the win in the fifth," said Conner. "I was proud of the girls for hanging in there and playing through our struggles, and how they were able to step up and finish each set."
Huddleston was match-high with 19 kills while Rice had 10 kills and five blocks. Morris had 35 assists and 15 digs, Harvey had 19 digs and Gergely had 17 digs and four kills.
After tonight's match with Byrd the Cavaliers are off until Tuesday, October 10, when they host Staunton River.