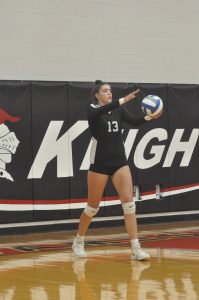 The James River girls will be looking to even the score with Carroll County on Thursday when the Cavaliers come to Springwood for a Three Rivers District volleyball match. The Cavs beat the Knights in four sets in the first meeting between the two in Hillsville.
Carroll comes into the week with a 5-2 Three Rivers District record and an 8-5 overall mark. James River was 8-6 overall prior to a tough district match with Alleghany on Tuesday. That was also at home, but results were too late for publication.
The Knights split two district matches last week, falling to Glenvar but bouncing back to beat Floyd. They lost in four sets to the two-time defending Class 2 state champion Highlanders at James River High last week. After River won the first set 25-23, Glenvar took the next three, 25-20, 25-23 and 25-20.
"We came out super strong to take the first set and we were playing with a lot of confidence and executing the game plan well," said coach Linsey Firebaugh. "However, as the night went on we made too many serving and hitting errors to be able to finish."
Konner Myers had 33 assists and 23 digs for the Knights while Ava Thacker had 11 kills and 28 digs.
On Thursday of last week the Knights bounced back with a three-set win at Floyd, 25-22, 25-22 and 25-17. Thacker had 13 kills and Brea Anduiza had 17 assists.
"We were very successful from behind the service line with 11 aces," said Firebaugh. "They could not run their offense effectively. Ava stepped up and had a big night defensively and offensively."
Next week the Knights will host Riverheads in a non-district match on Tuesday, then host Radford on Thursday, October 12.