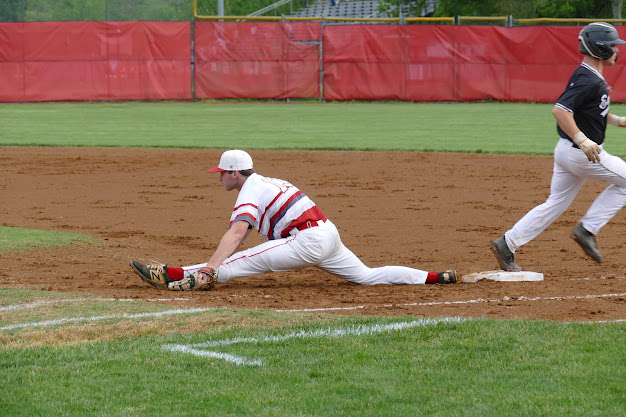 The Blue Ridge District baseball tournament final is scheduled to be played at William Byrd High School's Walthall Park on Thursday and, at press time, the Lord Botetourt team was getting ready to play in the semifinal.
LB had a first round bye as the second seed in the tournament. On Monday, William Byrd defeated William Fleming in a first round game and the semifinals were scheduled to Tuesday, although rain was in the forecast at press time. Top-seeded Franklin County was scheduled to host Northside in the other semifinal.
LB comes into the tournament with a 13-7 overall record after splitting two games last week. The Cavs hosted Franklin County on Tuesday of last week and dropped a 3-2 decision.
This was close all the way. Trailing by a run in the bottom of the sixth, the Cavs had a chance to take the lead with two runners on and no outs. Noah Donaho hit shot to right field but the Franklin outfielder made a diving catch going towards the line that saved two runs.
Nolan Medley pitched and took the loss despite giving up just two hits in four innings. Seven walks hurt, and he also struck out seven before Caleb O'Quinn relieved and finished the game. LB had just four hits, one each by Donaho, Jackson Smith, Noah Leonard and Brayden Wells.
On Friday in Daleville, Jack Vargo threw six shutout innings as LB wrapped up the regular season with a 3-0 win over Staunton River. Vargo held the Eagles to four hits while fanning six before O'Quinn pitched the seventh to earn a save.
Vargo also led the offense with two hits, including a double. JJ Tyree, Smith, Leonard, Medley and Wells all had one hit a piece.