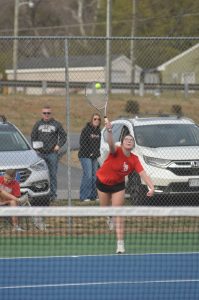 The Lord Botetourt girls won their Blue Ridge District tennis opener when they took a 6-3 win over William Byrd last week.
LB started out with doubles and took two wins at number two with Raimee Sykes and Karis Hambrick and number three with Emmy Sprouse and Kadence Overstreet.
In singles LB won the third through sixth matches with Sykes winning 8-3 at three, and Zoe Brown, Sprouse and Hambrick all winning 8-0 from four to six.
On Friday the girls kept it going with a 9-0 win over Northside. Reagan Meade and Meredith Claterbaugh won 8-1 at first doubles. In singles Reagan won 8-5 and Claterbaugh took a close 9-7 match.
The boys also won twice last week, defeating Byrd 7-2 and Northside 8-1. Singles winners against Byrd were Tyler Meade, Ridge Radtke, Chase Dozier and Tyler McCarren and LB swept the doubles.  Meade, Radtke, Dozier, McCarren and Xavier Shelton all won their singles matches against Northside and LB swept the doubles again.
The girls will host Franklin County at Hollins University on Thursday and the boys are at Franklin Friday.