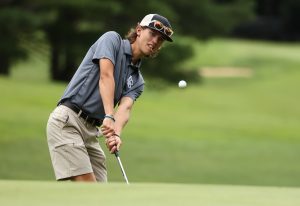 The Lord Botetourt golfers are in third place in the Blue Ridge District standings after two rounds of play. The Cavaliers cut into Northside's team lead with a solid round in Franklin County last week.
Botetourt shot a team score of 320 at the Copper Cover course, only two shots behind Northside's 318. Franklin County and William Byrd shot 333 each to tie for third.
After two rounds, Northside has a team total of 637. Franklin County was still in second with 646 but LB was just a stroke behind at 647. Byrd was third at 659, Staunton River had 808 and William Fleming does not have a full team this season.
The district was scheduled to play again on Tuesday of this week at the Hanging Rock Golf Club in Roanoke County, but results were too late for publication. Next Tuesday, August 29, William Byrd will host the district at Blue Hills.
Last week at Copper Cove, Aiden Mitchell led the Cavaliers with a 76 and tied Nathan Carter of William Byrd for medalist honors. LB's Alicia Davidov was just one shot back at 77, while Jeremy Simmons had an 83, Hayden Firestone shot 84 and Garrett Honts had 87.