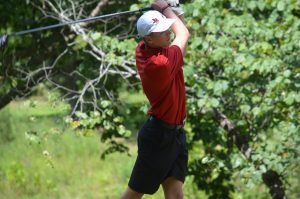 The James River golfers will be in Roanoke County on Thursday for a Three Rivers District match at the Hanging Rock Golf Course. Tee time is 1 p.m.
The district was scheduled to play at the Great Oaks course in Floyd on Monday, but that was postponed due aerating of the greens. That match will now be played on September 7. A match at Cliff View that was previously postponed was moved to Tuesday of this week.
Last week the Knights played a match at the Botetourt Golf & Swim Club and shot a team score of 330, finishing just one stroke behind second place Radford. Floyd won the round with a 318. River's Landon Bolling shot a personal best with a 74.
"We are continuing to improve our team score," said River coach Donna Cox.