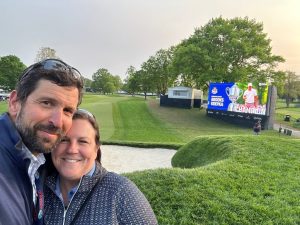 By Jimmy Robertson
Virginia Tech
Growing up on a farm in a rural county that, at one time, lacked a single stoplight generally gives one a healthy respect for natural resources. Andrew Green is no exception.
With a job that takes him around the country, Green admires a beautiful piece of property and all it offers. Then, perhaps out of habit, he starts envisioning fairway contours, plotting bunker placements, mapping out green locations, and implementing hazards in a way to create memorable experiences for golfers of all skill levels.
A 1996 graduate of Lord Botetourt High School and a 2022 inductee in the Roanoke Valley Golf Hall of Fame, Green has come a long way since playing on the Cavalier golf team. Retired Cavalier athletic director Chuck Pound has fond memories of Andrew.
"Andrew is awesome," said Pound. "Now I can say I know someone that is famous."
Indeed, Green has made quite a name for himself since his days at LB. A 2001 graduate of Virginia Tech, Green is the president and principal architect of A.H. Green Design/Green Golf and Turf, Inc. He established his business with a focus on being at the forefront of the next generation of architects.
Green ranks as one of the world's top golf course architects, specializing in renovations of existing courses. He uses tools such as specialized software applications and drone footage to craft 18 holes of wonderfulness, but unlike many course designers, he occasionally hops on a Caterpillar D6 bulldozer and brings his vision to life.
"I love to play in the dirt," Green admitted in a recent phone interview. "I'm a big kid. There's more to it [course renovations] than just that, but certainly it's great therapy to get in the bulldozer and create the vision."
Green's ability to see a golf course for what it can be and not what it currently is led to one of his greatest career accomplishments. In 2016, Green and his company were chosen to renovate the East Course at Oak Hill Country Club in Rochester, N.Y., in preparation for this past May's 2023 PGA Championship, one of professional golf's four major tournaments.
Green possessed extensive course design and project experience, and in 2014, he struck out on his own and started his own company, Green Golf and Turf. He took meetings with clubs and courses throughout the Mid-Atlantic and Northeast, worked on projects of all scales, and started to earn his reputation as a restoration expert. In 2016, he made his pitch to the Oak Hill Country Club leadership, gently proposing renovations that would reflect the course's glory days.
A humble approach befitting of his rural Botetourt County roots – he grew up in Daleville, an hour north of Virginia Tech's campus – and his love of golf history led to the leadership at Oak Hill taking a chance on him.
"I kind of approached it [his pitch for the job] differently than maybe some other individuals," Green said. "I certainly didn't approach it with a lot of ego. I try to do that everywhere I work. I approach it asking, 'What's the best thing for the project? What's the best thing for the golf course? What respects the past and pushes them toward the future?'"
In meeting with the leadership at Oak Hill, Green's vision connected the course's past to its future. His presentation referenced the legacy of Donald Ross, Oak Hill's original architect who designed the course in the 1920s. Green studied the original layouts and drawings of the acclaimed architect to inspire his renovation plan.
"That seemed to resonate with that group," Green said. "By being different, I stood out. It took them really a leap of faith to trust me that I could do it."
Fall 2019 marked the tee time for the Oak Hill project, and Green's company spent approximately four months renovating the course – a gorgeous layout originally designed by Ross. In mid-May at the 2023 PGA Championship, Green's work led to him earning unanticipated global recognition.
Those in charge at Oak Hill spoke glowingly of his efforts. He received positive attention from media outlets and numerous fans even asked for his autograph, which, in his words, was "a little mind-blowing."
More importantly, though, the players told Green that he had aced his project.
"Everything I've heard has been very positive," Green said. "I don't know if, after a little reflection, there have been additional conversations, but for everything that I've heard, it had been received really well.
"All the members were just so proud of what their club has become again. Being on the world stage in such a good light certainly was great to see for them."
Green credits much of the success in his current profession to what he learned in Southwest Virginia, first as a teenage cart boy and maintenance worker at Botetourt Country Club and later as an undergraduate at Virginia Tech. Green was a good golfer in high school, but admittedly not good enough to earn a scholarship, so he pursued what he considered the next best thing – course architecture.
Dean Bork, an associate professor in architecture at the time, cautioned Green of the pitfalls of that career. Bork, who is now retired, brought credibility to the conversation – he worked in the industry before becoming a professor at Virginia Tech. But Green remained undaunted, graduating with a degree in landscape architecture, a five-year program in what is now the College of Architecture, Arts, and Design, and earned a second degree, this one in crop soils and environmental science – turfgrass option – in the College of Agriculture and Life Sciences.
"I told him what the likely consequences of pursuing it might be, and he was determined," Bork said. "That's what he wanted to do, and from all sides, he's really made a good show of it.
"I do know that to be successful in the golf business, you have to be capable of networking with the right people. I think Andrew was acquainted with a few PGA Tour professionals when he was still a student … and those kinds of connections helped propel his career forward because it's really tough to get those kinds of clients without the right network of contacts."
Green's brother, Sam, helped him start that network. Sam Green, '94, worked as a golf course superintendent for several years, including a stint at Congressional Country Club in Bethesda, Md., the site of the 1997 U.S. Open. At that event, Sam helped his brother secure a volunteer spot assisting with course preparation, thus introducing him to the professional golf world. Andrew Green eventually worked for McDonald & Sons, a company that builds golf courses, for 14 years, learning every aspect of the business before striking out on his own. A job renovating the bunkers at Country Club of York in York, Pa., helped him break through in the profession.
Throughout his career, Green has been involved in the restoration or renovation of several famous courses, including Inverness Club in Ohio; the Blue Course at Congressional Country Club, Scioto Country Club in Ohio; Whitemarsh Valley Country Club in Pennsylvania; Indian Creek Country Club in Miami; and of course, Oak Hill.
During all those projects and others, Green found himself reflecting on Virginia Tech's impact on him.
"Every step of the way, Virginia Tech helped me," Green said. "There's a level of pride and perseverance that you have from being in Blacksburg. It's that grassroots or blue-collar mentality. It is certainly with the football team, right? Coach [Frank] Beamer and coach [Bud] Foster built that mentality that we're going to get up and go to work every day and we're going to overachieve. We're going to be great by working together. Those things certainly resonated.
"Within the landscape architecture program, I was very laser focused on wanting to do this, but they helped show me the value of all the other things within that discipline that have benefited me in so many ways that I didn't even realize at the time. … Then in the turf grass department, the relationships I've built, the hard work and camaraderie in that side of the world, was phenomenal."
Green's success at Oak Hill has given him the honors for other projects. He and his team just started work at Interlachen Country Club in Minnesota – the site of the 1930 U.S. Open won by legendary golfer and seven-time major champion winner Bobby Jones. Later this fall, he will be overseeing the renovation of East Lake Golf Club in Atlanta, Jones' home course.
Green is excited to tee off on those and others, though they may slice into time reserved for wife, Jennifer, '00, and three children. His listing of projects stretches to 2026-27 – an accomplishment in a profession prone to volatility.