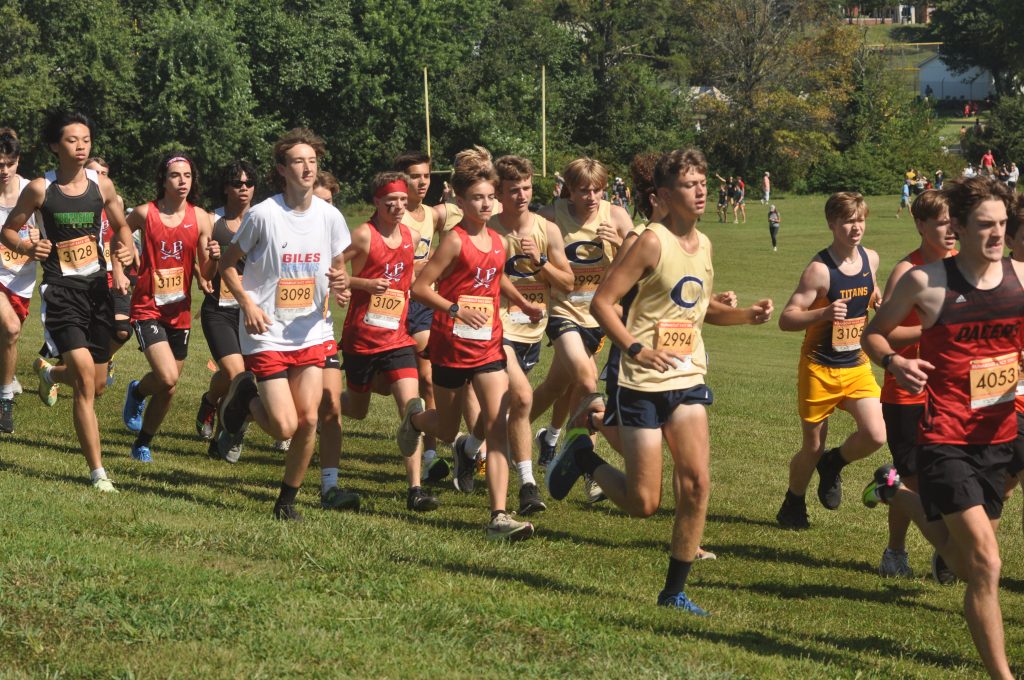 Green Hill Park in west Roanoke County will be the site of the 19th annual Knights Crossing Invitational, hosted by Cave Spring High School.
This yearly meet is always one of the biggest of the season in Virginia for high school runners from all over. Knights Crossing has been ranked as the third best invitational in the state according to the web site MileStat. Green Hill Park is a fast course that will once again host the Virginia High School League Class 1, 2 and 3 state championships in November.
"We are very excited about this year's invitational that currently has 107 high schools and 67 middle school teams attending," said Cave Spring's Tommy Maguire, the meet organizer. "This will be our biggest Knights Crossing Cross Country Invitational yet and one of the largest athletic events held in the Roanoke Valley this year. This historic year also looks to be one of the fastest fields in our 19 years of hosting."
This year's Knights Crossing event will include over 3,000 runners with races for schools of all sizes. There are 15 teams traveling from North Carolina, Tennessee, and West Virginia and several teams making the trip from the Richmond and Northern Virginia areas. Every local school will be represented.
The course will open at 7 a.m. and the first race is scheduled to take the gun at 8 a.m. Races run through mid-afternoon.
Both James River and Lord Botetourt are entered in this Saturday's event after both opened the season with meets last week. The Knights ran in the Bengal Clash at the River at the Smith River Complex in Axton on Thursday, and the Cavaliers competed in the Viking Invitational at Northside High School in Roanoke County on Saturday morning.
The River girls were 11th and the boys were 12th in the match in Axton hosted by Bassett High School. Cave Spring swept the meet among 14 teams of girls and 16 teams of boys.
"We did very well for the first meet of the season," said River coach Butch Lewis.
Drew Whitson was River's top finisher in the girls race, placing 14th in a time of 22:26. Drew is a senior and this is the first time she has run cross county.
"She has been on the cheer team and is dividing time between that and cross country," said Lewis. "All the girls ran well."
Also scoring for the girls were Georgia Miller in 42nd place, Victoria Race-Waller in 65th, Rhaya Kitt in 75th and Jacmyn Rinehart in 80th place among 107 girls who finished.
For the boys, Tristian Capo-Lopez led the Knights with a 59th place finish in 21:03.18. Also scoring were Silas Miller in 64th, Braden Jones in 66th, Aiden Bartulis in 67th and Zachary Griswald in 83rd. There were 137 boys in the race.
On Saturday at Northside the Pacers Home School team dominated the meet, winning both the girls and boys team titles. Lord Botetourt's boys were seventh and the girls did not have a team score as many runners were missing due to the holiday weekend.
"Our varsity boys team did a great job of running close together, which will be a strength as we move forward," said Cavalier coach Elizabeth Wilson. "Tristan Marshall led the team with 20:38 and a 29th place finish. Behind him were John Moughrabi and Preston Vaughn.
"Our girls team was made up of Lexi Anglin, Ember Wiley, and Jillian Harris. These ladies worked hard to stay close together during the race."
Archer Lee, an eighth grader, ran his first cross country race in the middle school event and came in 22nd place out of 86. Maddie Moore also ran her first middle school race, coming in with a time of 13:41.
The JV boys team was led by Christian Rakes with a time of 23:06, followed closely by Brody Nunley.
"We look forward to the Knights Crossing," said Wilson. "This is a big race for everyone, and we will have the majority of our team racing."